Rev Oliver Heywood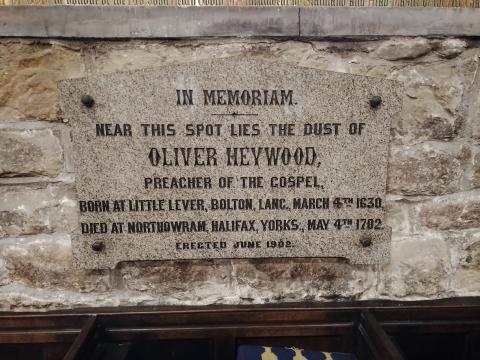 I have recently been reading the diaries of Oliver Heywood. There are still three volumes to go after my current tome, and they fascinate me. Heywood was born at Little Lever near Bolton, but ministered at Coley near Halifax before being ejected in 1662 for refusal to read scripted prayers. Last week, I caught the bus to Halifax to inspect his resting place at the Minster (above), and to see the site of his chapel at Coley and the nearby village, Northowram, where he dwelt. Rev Heywood was a Presbyterian, but supported Independent congegations like our own. He travelled through much of Craven and what we now call the Ribble Valley illegally preaching God's word, and suffering accordingly.
He was hounded less than other ejected puritans, but I still marvelled at the foolishness of his persecutors. Demoted from his pulpit at Coley, he had to endure various drunkards and fools entering it to preach in his stead. He was excommunicated by the Chancellor of York province, so he was both banned from attending church and fined for not doing so. Satan might be clever, but his agents are often stupid.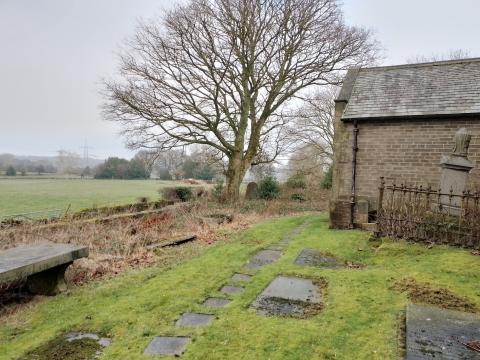 St John's Church, Coley, buit on the site of the older chapel at which Heywood ministered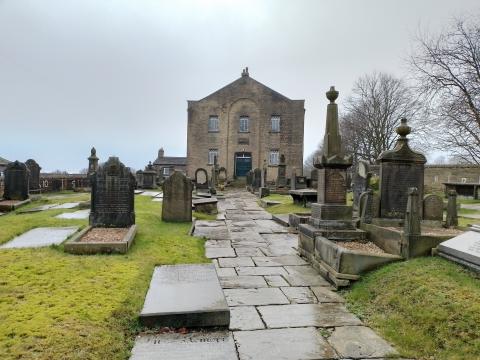 Heywood United Reformed Church, Northowram, once Congregational and named in his honour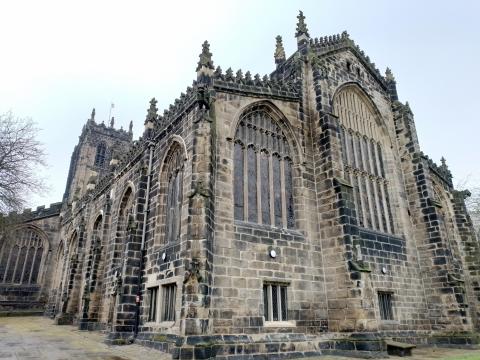 Halifax Parish Church, now Minster, wherein the great man lies buried, and whose memorial stone still stands (top)
This Michael Hopkinson, who died in May 1653 and whose stone lies to the rear of Halifax Church, would doubtless have known of Heywood in his prime.
Let us now praise famous men, and our fathers that begat us. The Lord hath wrought great glory by them through his great power from the beginning. Such as did bear rule in their kingdoms, men renowned for their power, giving counsel by their understanding, and declaring prophecies: Leaders of the people by their counsels, and by their knowledge of learning meet for the people, wise and eloquent are their instructions.
-Ecclesiasticus 44:1