Rooting for Death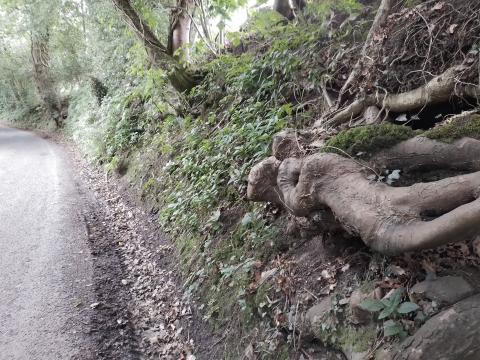 Perhaps I have a macabre imagination, but can you see a human form in that tree root? I was walking to Gisburn from the chapel when I was struck by the corpse-like shape by the lane.
In Psalm 110:5-7, we read of the Messiah's judgement of the earth:
The Lord at thy right hand shall strike through kings in the day of his wrath. He shall judge among the heathen, he shall fill the places with the dead bodies; he shall wound the heads over many countries.
No sweet sentiment here, no "I only believe in a God of love" theology present in that psalm. A time is envisaged when physical death shall be God's decreed penalty for rejection of His ways. We enjoy using spring lambs and daffodils as aide memoires of God's gift of life, but we should also be mindful of death and judgement when a corpse or coffin we see.
He that is our God is the God of salvation; and unto God the Lord belong the issues from death. Psalm 68:20