A Roundabout Flower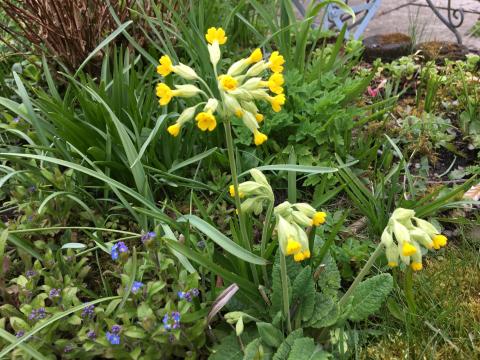 Between Otley and Ilkley in West Yorkshire the 'powers that be' authorised a while ago the planting of an abundance of one of my favourite flowers, the cowslip, on the roundabouts of the A65. This stretch of road, on a sunny day in April, is a joy to behold. 
Cowslips are one of our most familiar spring flowers along with the delicate primrose and fragile violets that peep out nervously along soft mossy banks. Fields and meadows used to be full of egg-yolk-yellow cowslips; indeed, as a child I remember wandering down southern lanes gazing out over just such pastures. 
The actual name cowslip, I have always found to be rather unusual and unfortunate for such an attractive plant. It is derived from 'cow-slop' (cowpats) as the plant is often found in fields frequented and fertilised by cattle. 
Other names include Primula Veris, Paigles, Herb Peter and Bunch of Keys; the latter two being linked with the Bible. If you look at the flower head one might imagine that whoever named the plant thought that the clusters of forward-facing flowers reminded them of a bunch of keys dangling. 
The 'Peter' connection comes from Matthew 16:19 where Jesus says to him (after he confesses that Jesus is the Christ, the Son of the Living God), "And I will give you the keys to the kingdom of heaven…" For centuries, Roman Catholicism has misinterpreted these words, but Scripture clearly teaches that only Jesus holds the keys of heaven – Rev.1:18 'I have the keys of Hades and of Death'. Peter was given the privilege of opening the door of faith to the Jews at Pentecost, the Samaritans, and the Gentiles. 
So on reflection, I think I will stick with the name cowslip, despite its bovine connotations!