The Sir John Oldcastle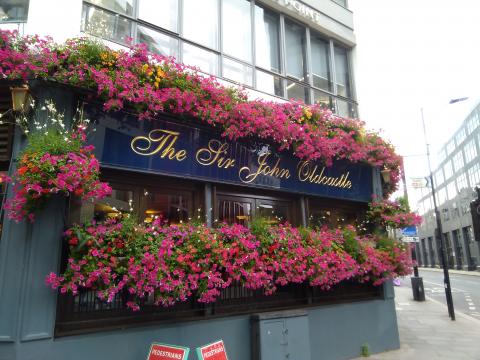 There are not many public houses named after evangelical Christians. In today's post, I use the term in its broader sense, seeing as Sir John died in 1417, long before the term evangelical was known or used. Although he was the model for Shakespeare's Sir John Falstaff, the real Sir John was a follower of John Wycliffe, the fourteenth-century proto-protestant. Called lollards, his followers rejected the Pope and the doctrine of transubstantiation, whereby Christ becomes actual bread on the Roman altar. Also known as Lord Cobham, Sir John was converted to true religion sometime before 1410, and was prosecuted in 1413 for both holding heretical beliefs and succouring Lollard preachers, who were permitted to use the churches on his estate. Some evangelical books of his had been discovered and reported on Paternoster Row, the centre of London's publishing world. Arrested and held in the Tower, his friendship with King Henry V gave him an extra forty days to recant, during which he escaped. He then planned a lollard rising against the government, which failed, and he was arrested, hanged and burnt.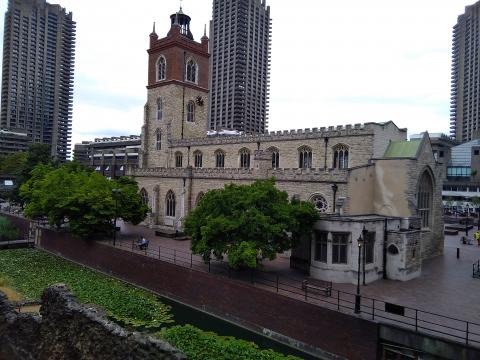 St Giles' fields, where the doomed Lollard rebels assembled 
Hindsight and possibly morality tell us that armed insurrection was wrong and that the association of the lollardy movement with rebellion was very hard to shake off. Still, old Sir John sets each of us a challenge. In an age in which holding to evangelical doctrine is again becoming increasingly suspect and of concern to those in government, would there be enough evidence to prosecute if a crime it became?
I seldom frequent the ale bench, but to The Old Sir John I would gladly go and raise a glass to a man who would sooner die a hot death than imbibe cold religious lies. 
COBHAM.
Long life and prosperous reign unto my lord.
KING.
Ah, villain, canst thou wish prosperity,
Whose heart includeth naught but treachery?
I do arrest thee here my self, false knight,
Of treason capital against the state.
COBHAM.
Of treason, mighty prince? your grace mistakes.
I hope it is but in the way of mirth.
KING.
Thy neck shall feel it is in earnest shortly.
Darst thou intrude into our presence, knowing
How heinously thou hast offended us?
But this is thy accustomed deceit;
Now thou perceivest thy purpose is in vain,
With some excuse or other thou wilt come,
To clear thy self of this rebellion.
The True and Honorable History of the Life of Sir John Oldcastle, the Good Lord Cobham. Attributed in part to William Shakespeare.