St Andrew-by-the-Wardrobe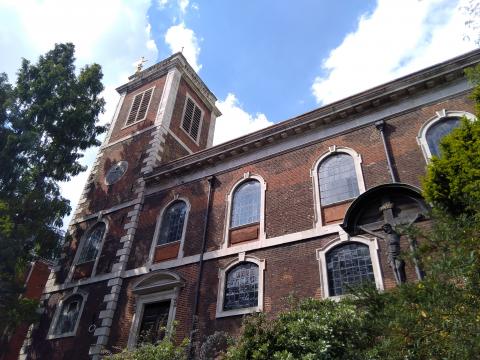 St Andrew-by-the-Wardrobe is a typical London church: rebuilt by Christopher Wren and damaged in the Blitz. Two things struck me as odd. The first was the large wooden crucifix peering down onto the street. St Andrew's is very 'high', meaning it is rather Catholic in its mode of worship, even opting out of the current lady-Bishop of London's episcopal oversight. I respect this, though I note the irony of Wren's plainest church now being the most Anglo-Catholic in its liturgical style. The second oddity is its peculiar name. 
It has nothing to do with doorways to Narnia, sadly. In 1361, King Edward III relocated his personal effects (which included armoury and weapons, as well as articles of clothing) from the Tower of London to the site of St Andrew's, which was then close by the second of London's formidable fortresses, Baynard's Castle. This is all but gone, a modern multistorey carpark now bearing its name, though preserving the original's grim appearance with its 1960s brutalism. I would like to say the architect paid old Baynard's a compliment with such a heavy style, but I suspect he would have opted for it wherever it was built.
Our wardrobes- that is, our earthly possessions- are never truly safe. Fires, thefts, bombs and architects have all robbed St Andrew's of its former glories, much more the royal palace whose site it shared. Unlike William Shakespeare, it is not somewhere I could regularly worship, but even my staunchly protestant lips smiled at the large wooden cross erected in its grounds. For two millennia, things have come and gone, been built, unbuilt and then re-built, but the cross of Christ remains. It is God's powerful and glorious invasion of human history which will never be undone or ignored, refashioned or replaced.