St Benet, Paul's Wharf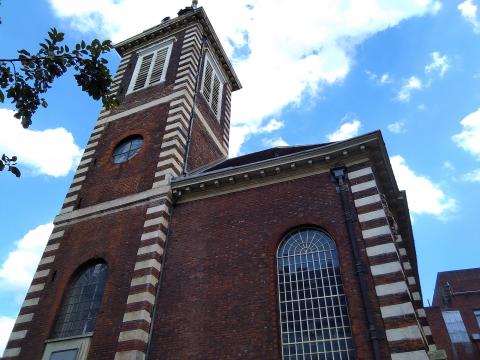 The Church of St Benet, Paul's Wharf, London, may have been the last place a young Christian lady called before heading off to execution at the Tower of London. She was Queen Jane, better known as Lady Jane Grey, and after her brief nine-day reign, was sent from Baynard's Castle, next door, to the Tower, by order of Bloody Mary. Jane was an evangelical, and was paying as much for her faith as her parents' ambition and the times' politics. The church's own website suggests she received something akin to last rites here, which a Protestant in the heady days of reformation might still have found acceptable. It would certainly have offered comfort to the poor lass before she set off on a barge down the river to that certain death. Of course the building she would have known was destroyed by the Great Fire, but to this day, St Benet's is a Welsh evangelical Anglican church, an exotic species if ever there was. Whether queens or fishwives, lords or vagrants- may God bless St Benet's and all who call there seeking comfort and strength before they die- and die they must.
Isaiah 51:11-13, 1599 Geneva Bible:
Therefore the redeemed of the Lord shall return, and come with joy unto Zion, and everlasting joy shall be upon their head: they shall obtain joy and gladness: and sorrow and mourning shall flee away. I, even I am he that comfort you. Who art thou that thou shouldest fear a mortal man, and the son of man, which shall be made as grass? And forgettest the Lord thy maker, that hath spread out the heavens, and laid the foundations of the earth? and hast feared continually all the day, because of the rage of the oppressor, which is ready to destroy? Where is now the rage of the oppressor?