St Constantine, Wetheral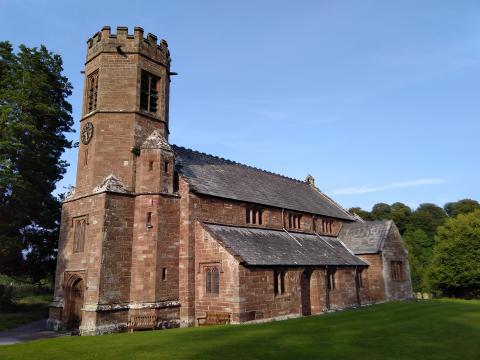 This summer I visited Wetheral church in Cumberland's Eden Valley. It is customary for such foundations to be dedicated to some saint or motif, and this is no exception, being named after St Constantine and the Holy Trinity. Who on earth was St Constantine? I believe it is the only church in the country to bear such a name. Interestingly, the church's own website links to a set of notes explaining that Constantine was a Cornish chieftain who converted to Christ in the sixth century. My Oxford Dictionary of Saints notes, with a pleasing sense of precision, that he was martyred in the year 576. Other online sources suggest the church's dedicatory saint was not from the far south but the north, one Constantine of Strathclyde, a Scots ruler who also converted. Evidence says he became a king in 612, becoming later a clergyman, such was his call. Wetheral's location in the country's far north would make the Scottish candidate the more likely, even though this contradicts the church's own account.
Nonconformist churches generally decline to dedicate themselves to saints, though there are exceptions. The Methodist church opposite my home is known at St Andrew's, and an evangelical church is Preston is called Wycliffe Memorial, a fine dedication if ever there was one. Still, I much prefer our own style of church names- Salem, Zion, Ebenezer et al. Giving a church a man's appellation risks our forgetting Christ's proprietorial title to every fellowship that gathers in His name. Salem Chapel is not the property of the pastor, the deacons, the trustees or even the members. It is Christ's church, and for His glory and His service do we exist. Let us remember that, always.
Unto him be glory in the church by Christ Jesus throughout all ages, world without end. Amen.
Ephesians 3:21