St Edmund, King, Martyr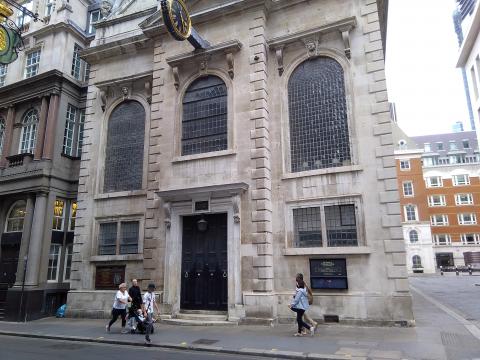 The London Church of St Edmund King and Martyr I was unable to enter, but I admired its Italianate tower from without. Unusually, it is a church to have suffered bombing damage during the First World War. It now houses the office of Ric Thorpe, the Bishop of Islington and 'Centre for Church Multiplication'. This appears to be a charismatic (its site quotes Peter Wagner), evangelical Anglican initiative to plant more 'worshipping communities' in the land. We nonconformists who see too clearly the decay of the state church will surely welcome some activity within its heart to renew and revive. England needs re-evangelising, and this activity within the capital I hope will prove fruitful.
Edmund was a Christian king of East Anglia at a time when huge heathen armies of Dane and Norse attacked the land, destroying churches and killing Christians. How and where King Edmund was killed we do not know, but he was soon deemed a martyr and was recognised as England's patron saint before George came along.
Although I have grave concerns about the Church of England and the churches of England, it is appropriate that against the triumphant armies of aggressive secularism, 'liberal' intolerance and spiritual indifference, St Edmund's Church in London is making plans for a defence of the faith and a lasting incursion into lost territory.
I will build My church, and the gates of Hades shall not prevail against it. Matthew 16:18