St Peter's Church, Charsfield: Rood Loft Steps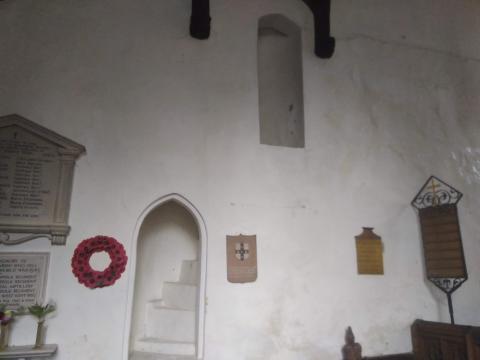 This summer I called at the church of St Peter in Charsfield, Suffolk. Regular readers will know my penchant for old church buildings. Charsfield was interesting because it had opened up its rood loft stairs. Rather naughtily, I climbed them. First, though, let me explain.
Medieval churches had screens separating the building's most sacred space, the chancel, from the nave, where the ordinary worshipper stood. The screen was called a rood, and was typically a wooden affair with gaps or arches which allowed the worshipper to observe the priest celebrating Mass. Some rood screens were so substantial that there were walkways above them, called a rood loft, in which musicians might sit or statues or Christmas decorations might stand. To access them, a narrow flight of stairs was built into the north wall. At the Reformation, these screens were removed and the loft stairs filled in with rubble. Charsfield managed to unblock their stairs, and up them I went.
Any church warden or health & safety supremo reading this is likely to have a dicky fit, so I offer my apologies in advance. The steps were steep and narrow and they merely led to an open doorway, there now being no rood loft to step on to. Still, the view of the church below was rather fine, and I pondered the fun which some medieval children might have had climbing up here and spying on their elders below. I cautiously retraced my steps, not wishing to fall down and break a leg or neck.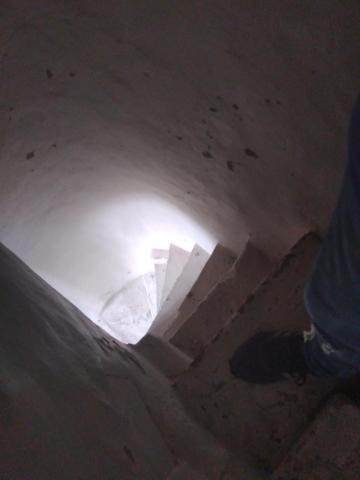 In church, we often wear a mask and hide our true feelings. This may be proper and correct; if we always acted or expressed how we felt, most others would feel awkward and the God whom we come to worship would have a rival for our attention. Yet God has a better view of us in church than even I had from those rood loft stairs. Thou God seest me, confessed Hagar. The eye of heaven can see through hypocrisy, civility, courtesy and indifference to the very heart of man. God has a better view of the worshipper than any preacher or pastor from his elevated pulpit. He sees your pain and grief, but also any impiety and hardness of heart.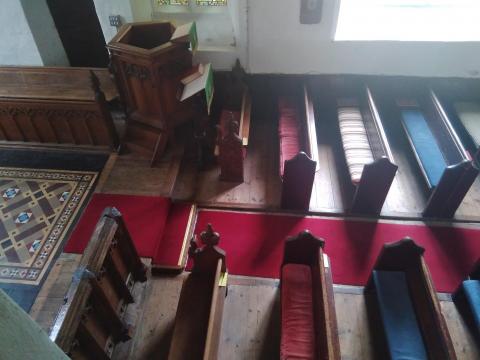 Then she called the name of the 

Lord

 who spoke to her, You-Are-the-God-Who-Sees; for she said, "Have I also here seen Him who sees me?"
Genesis 16:13, NKJV