Still More Truth in a Nutshell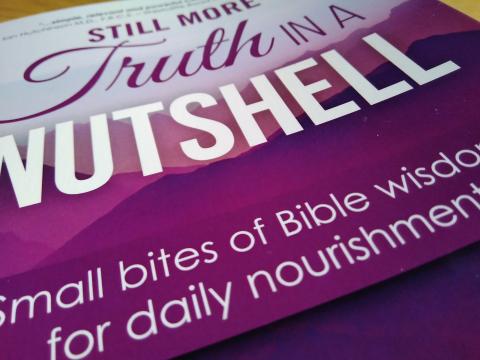 Like me, so you sometimes wish to read something Christian but not something too long and heavy? On Sunday I was kindly given a complete set of Spurgeon's Treasury of David, a commentary on the Psalms, but this is not something I can carry to my bed, nor something my current frame of mind is able to consume. At the recent Banner of Truth conference, I bought an exposition on the Westminster catechism, but this is a tome for which I must be in the right mood. Even more recently, I obtained a copy of John Mollitt's Still More Truth in a Nutshell: Small Bites of Bible Wisdom for Daily Nourishment. This for me is perfect bedtime reading, the chapters being somewhere between one half and three pages' length. Typically, Mr Mollitt begins with an anecdote from his own life which he then uses to illustrate some facet of divine truth. The author regularly speaks at Martin Top and he writes as well as he preaches. If you need some helpful Christian material in small, manageable chunks, I recommend this book to you.  
You can buy it here or on other leading retail sites. Although it was only published this year, I note that there are six 'used' copies available on Amazon. Although I am willing to lend mine, I shan't be parting with it.