Tartin Mop & Martin Bottom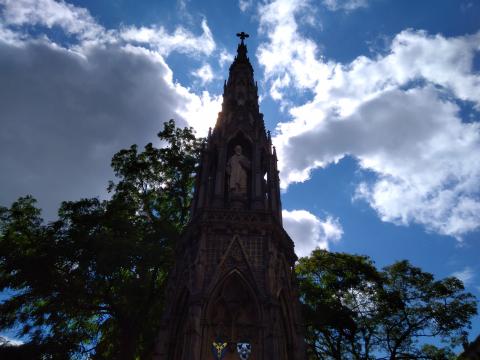 Some think that I am a little intolerant out here at Martin Top. I have been known to criticise 'liberal Christians' and wacky charismatics in the same breath. Well one of my resolutions for 2023 is to give such folk a say on this blog. Ably demonstrating my ecumenical spirit and broad-church ethos, let me introduce to you my two friends who will feature on this blog over the course of 2023.
Firstly, please meet Rev Dr Ms Alana Denmars (she/hers) of Tartin Mop Chapel, located in the village of Gimington, near Risburn, affectionately known as Ichabod Chapel. Very much on the liberal side of Christianity, Dr Denmars believes that ecological damage is the product of patriarchy, and that only gender-based transformation can rescue this planet from capitalism and imperialism's oppressive shifts in paradigm. "Jesus was a great role model", Denmars added. "What a pity he died so young and achieved so little. Thankfully, I am here now to pick up the torch and carry on the good work".
Secondly, here is Pastor Adam Arsden, of Martin Bottom Community Church, which is located within the beautiful Rubble Valley in Lancashire. "The Spirit clearly told me I was to change the name of our church", Arsden explained. ""Make it something, er, more relevant and cutting edge", he told me. So I'm currently looking at names like 'Shake-Up! Church', 'Audac!ty' and 'Tr!angulate'. Names like this will make us TRANSFORM this community while INCREASING our financial giving several times over. God will be like so glorified. Intentional! Be blessed!" At time of publication, Pastor Arsden was busily being promoted to the rank of prophet, so his time at Martin Bottom is being reduced, as he can not minister there and fly around the world at the same time.
I am sure you will enjoy hearing from my two guests throughout the year. We send our best wishes to both of their congregations and look forward to hearing of their goings on in due course.