On the Threshold (1900)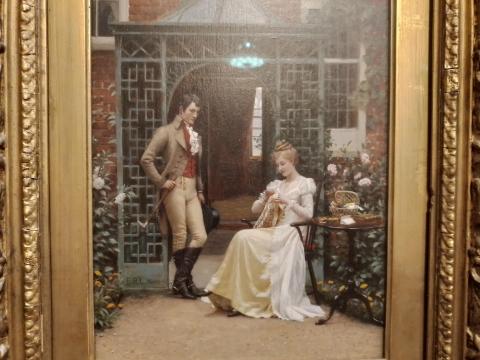 On the Threshold (1900) is an oil on panel by Edmund Blair Leighton (1853-1922) which hangs at Manchester's Art Gallery. The painting's title refers not only to the doorway, but to the threshold of a marriage proposal.The man appears reflective, perhaps a little undecided. The girl sits by some roses whose beauty and fragrance we are intended to associate with her. This flower is linked to Venus, the goddess of love, but its thorns also symbolise the wounds love can inflict. The clinging ivy may refer to wedlock's dependency. Blair Leighton was especially good at faces and fabrics: long, beautiful dresses were the highlights of his pictures.
On a recent Sunday, I quoted that famous verse from Revelation 3:20:
Behold, I stand at the door, and knock: if any man hear my voice, and open the door, I will come in to him, and will sup with him, and he with me.
Here, it is Christ on the threshold, apparently waiting for the church of Laodicea to bid Him entry. That He does not burst down the door with the might of His breath, or withdraw from their lukewarm assemblies immediately, is a wonder indeed. In John 6:37b, the Lord declares:
and him that cometh to me I will in no wise cast out.
If this be the case, why is the Lord Jesus on the wrong side of the door in Revelation 3? Our churches are on the threshold, but on which side is the Lord Jesus?