Topiary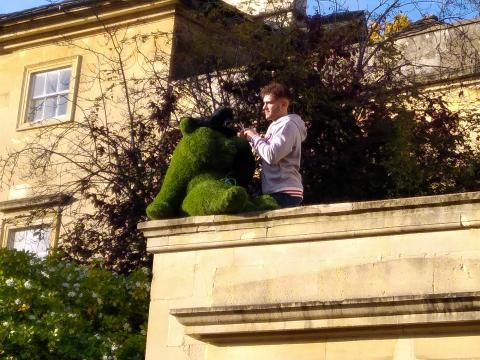 Topiary is a form of living sculpture by which trees and shrubs are cut in such a way as to form a desired shape, pattern or semblance to some other thing. The photos above and below I took in a Wiltshire market town, and show a young gentleman attending to his topiary, trimming here and there, and then stepping back to inspect the overall appearance, much as a barber gets to work on a human head.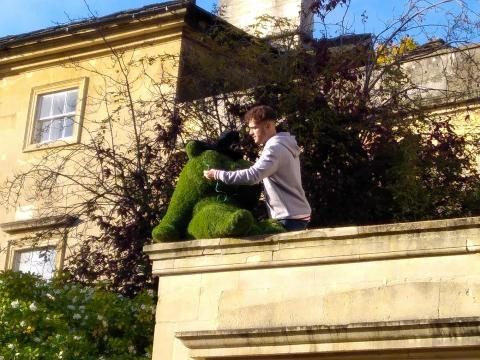 The leading Victorian horticultural authority, James Shirley Hibberd, wrote:
It may be true, as I believe it is, that the natural form of a tree is the most beautiful possible for that tree, but it may happen that we do not want the most beautiful form, but one of our own designing, and expressive of our ingenuity.
A human being's nature, ie that which is natural, is displeasing to God. Scripture holds a negative view of the human heart or essence; not a sunny, optimistic one. The Creator therefore recreates our natures in Christ, moulding, cutting and trimming us into something better and greater.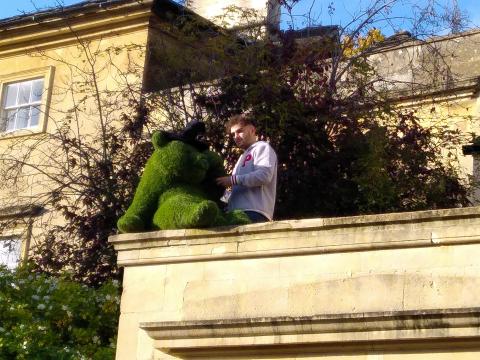 Here is our natural state:
Among whom also we all had our conversation in times past in the lusts of our flesh, fulfilling the desires of the flesh and of the mind; and were by nature the children of wrath, even as others. Ephesians 2:3
And here our new one, upon which the Greater Gardener has been working:
Therefore if any man be in Christ, he is a new creature: old things are passed away; behold, all things are become new. 2 Corinthians 5:17
And here is the method by which He goes about His work: