The Unknown Political Prisoner (1952)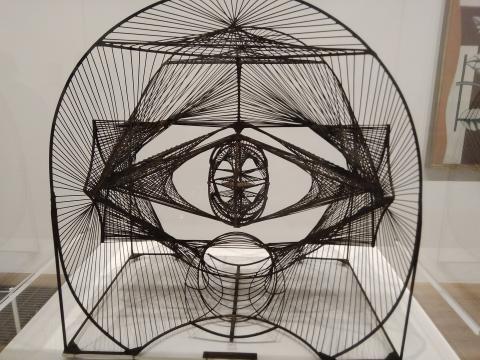 Antoine Pevsner (1884-1962) created this model for the much larger work The Unknown Political Prisoner, which was organised by London's Institute of Contemporary Arts in 1952, and is now displayed at London's Tate. Pevsner constructed the intricate organic form entirely from straight elements. He sought to create an abstract monument with an architectural geometric design that could be present and seen in its entirety. Its repeated lines are a symbol of imprisonment: 'the motif floating in the abyss of the sphere emphasises the image of captivity; it becomes materialised in the shape of a cell.'
Pevsner was born into Russian Empire and witnessed the establishment of the Russian Soviet Federative Socialist Republic, two deeply oppressive regimes, before emigrating to France. According to the United States Department of State, a million people are today incarcerated for their beliefs, a good number of whom will be Christians. This art work is as clever as the real cells are strong. We in the West have generally pleasant lives, and we may secretly regret the world's promised end. Yet for many, their earthly existence is closer to hell, and they long for its grand and final conclusion.
Truly my soul silently waits for God;
From Him comes my salvation.
He only is my rock and my salvation;
He is my defence;
I shall not be greatly moved
Psalm 62, NKJV