Words of Wisdom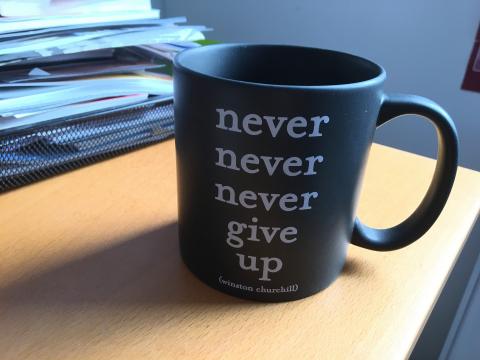 "Never give in. Never give in. Never, never, never, never, give in – in nothing great or small, large or petty – never give in, except to convictions of honour and good sense…"
These words were part of a speech given by Sir Winston Churchill at Harrow School in 1941. What great sentiments. What great oratory, exhibiting impressive leadership skill. What great inspiration for those boys listening, as they endured living through WW2 whilst facing the prospect of their having to fight for King and country.
I would not have liked to live through those days.  But those of us who are followers of Jesus Christ are daily in a different battle against the world - its allurements; the flesh - our sinful nature, and the devil - our adversary. Determination and commitment are watchwords which will stand us in good stead each day as we go out and about seeking to love and share the gospel with those around us.
A young man called Timothy was urged, by the apostle Paul, to 'Endure hardship as a good soldier of Jesus Christ. No one engaged in warfare entangles himself with the affairs of this life, that he may please him who enlisted him as a soldier.' 2 Timothy 2:3,4.
What are the duties of a soldier? 
Obedience
Endurance
Sacrifice
We can, at the very least, encourage each other as the days get sterner, to go forth in the power of the Holy Spirit and, looking to Jesus, let us never give up. Never give in.
'Chosen to be soldiers, in an alien land,
Chosen, called and faithful, for our Captain's band;
In the service royal, let us not grow cold;
Let us be right loyal, noble, true, and bold.
Master, wilt Thou keep us, by Thy grace divine,
Always on the Lord's side, Saviour, always Thine.' 
- Frances Ridley Havergal (1836-1879)