Amy Carmichael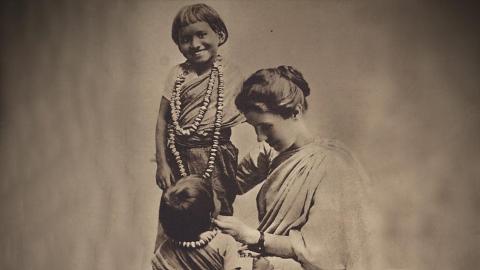 Amy Carmichael (1867-1951)
Founder of the Dohnavur Fellowship; Missionary to Japan and India
Born in Belfast Ireland, to a devout family of Scottish ancestry, Carmichael was educated at home and in England in Harrogate where she was converted to Christ. Schooling there had to be end when the family's financial difficulties began
Enroute to church one morning she met an old woman carrying a heavy bag; she stopped to help her. Realising that this small thing to her was a big thing to the woman, she resolved from that point that 'nothing was important save that which was eternal'
Kewisck- called to the mission field: July 26 1892: 'Definitely given up for service abroad'.
In 1892 she volunteered to the China Inland Mission but was refused on health grounds.
However, in 1893 she sailed for Japan as the first Keswick missionary to join the Church Missionary Society (CMS) work led by Barclay Buxton.
After less than two years in Japan and Ceylon, she was back in England before the end of 1894.
The next year she volunteered to the Church of England Zenana Missionary Society, and in November 1895 she arrived in South India, never to leave.
While still learning the difficult Tamil language, she commenced itinerant evangelism with a band of Indian Christian women, guided by the CMS missionary Thomas Walker. She would dress as an Indian lady.
She soon found herself responsible for Indian women converts, and in 1901, she, the Walkers, and their Indian colleagues settled in Dohnavur.
During her village itinerations, she had become increasingly aware of the fact that many Indian children were dedicated to the gods by their parents or guardians, became temple children, and lived in moral and spiritual danger
1901- arrival of Preena, escaping from being 'married to a god'. Shed escaped once before, was caught, and branded on the hands. Preena, 50 years later: The first thing she did was put me on her lap and kiss me- who is this person who kisses me like my mother?'
It became her mission to rescue and raise these children, though people back in England thought she was making it up- unaware of what went on. Christian publishers wanted success stories rather than exposes of what was going on. In 1903, her publisher had to print testimonies of what was going on to silence a campaign to bring her home.
And so the Dohnavur Fellowship came into being (officially registered 1927). Soon a hospital was attached.
Known as Amma (Mother), Carmichael was the leader, and the work became well known through her writing.
Workers volunteered and financial support was received, though money was never solicited.
Stephen Neil: a new type of evangelicalism': Amy a 'fundamentalist'. Neil 'the word of God is to be found supremely in the holy scriptures'.
At a meeting with Brahman leaders: "We cannot accept answers from your book. Your own gurus are not agreed about it. Some say it is composed of myths and fables. There are Christian scholars who say so".
In 1931 she had a serious fall, and this, with arthritis, kept her an invalid for the rest of her life. She continued to write, and identified leaders, missionary and Indian, to take her place. She stayed in her room, writing and studying.
In 1951 Carmichael died at Dohnavur. Her headstone is inscribed "Ammai", revered mother, which the children of Dohnavur called Carmichael.
Achievements
Carmichael never returned to England after arriving in India. She wrote prolifically, publishing nearly 40 books. In her personal devotions, she relied on scripture and poetry. She wrote many of her own poems and songs.
Carmichael never directly asked for funding, but the mission continued to be supported through donations.
Thousands rescued from temple prostitution; India outlawed it in 1948.
Quotes
Give me the love that leads the way, the faith that nothing can dismay, the hope no disappointments tire, the passion that will burn like fire; Let me not sink to be a clod: Make me Thy fuel, Flame of God.
You can always give without loving, but you can never love without giving.
Those who think too much of themselves don't think enough.
God, harden me against myself!
We profess to be strangers and pilgrims, seeking after a country of our own, yet we settle down in the most un-stranger-like fashion, exactly as if we were quite at home and meant to stay as long as we could. I don't wonder apostolic miracles have died. Apostolic living certainly has.
"You can give without loving, but you cannot love without giving."
"It is a safe thing to trust Him to fulfill the desires which He creates"
"Satan is so much more in earnest than we are--he buys up the opportunity while we are wondering how much it will cost."
"Oh, will you pray? Stop now and pray, lest desire turn to feeling and feeling evaporate."
"Can we follow the Saviour far, who have no wound or scar?"
Bibliography:
Lisa Beth White, Boston University
Iain H Murray, Amy Carmichael
Elisabeth Elliot, A Chance to Die: the Life and Legacy of Amy Carmichael.
Various online sources
Discussion Questions
Was she right to dress as an Indian?
Should we continue to send missionaries abroad?
Does liberal theology continue to hinder the gospel?
Why would the Lord allow her to be bed-bound for much of her final 20 years?
The image used above is in the public domain.