FB Meyer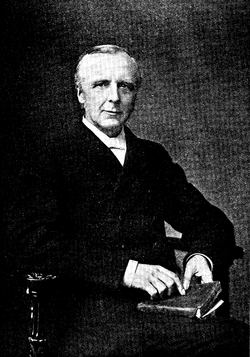 Frederick Meyer 1847-1929
 Baptist pastor and evangelist
 The 'Archbishop of the Nonconformists'
 Reintroduced Christ's return
 Achievements
 Early preacher at the Keswick Convention
 Instrumental in the shutting down of hundreds of saloons and brothels
 Invited DL Moody to England for his evangelistic crusades
 An associate of Spurgeon and Hudson Taylor
 The Daily Telegraph, described him as 'The Archbishop of the Free Churches' in 1929 in his      obituary.
 Helped found the Prophetic Witness Movement International
Controversy
Staunchly pre-millennial
Quotes
I have just heard, to my great surprise, that I have but a few days to live. It may be that before this reaches you, I shall have entered the palace. Don't trouble to write. We shall meet in the morning –A letter to his friend as he lay dying
Jesus Christ has bought us with His blood, but, alas, He has not had His money's worth! He paid for ALL, and He has had but a fragment of our energy, time and earnings. By an act of consecration, let us ask Him to forgive the robbery of the past, and let us profess our desire to be henceforth utterly and only for Him - His slaves, owning no master other than Himself.
The church which is not a missionary church will be a missing church when Jesus comes.
Consecration is not the act of our feelings but of our will.
You will tell the others that I am going home a little sooner than I thought. Then tell them not to talk about the servant but to talk about the Saviour.
Our God is Jehovah of hosts, who can summon unexpected reinforcements at any moment to aid His people. Believe that He is there between you and your difficulty, and what baffles you will flee before Him, as clouds before the gale.
I used to think that God's gifts were on shelves one above the other and that the taller we grow in Christian character the more easily we could reach them. I now find that God's gifts are on shelves one beneath the other and that it is not a question of growing taller but of stooping lower.
Focus
The return of Christ