William Tyndale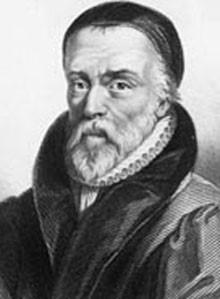 William Tyndale 1494–1536: Bible Translator & Protestant Martyr
Biography:
Born at Stinchcombe, near Dursley, 'God's Gloucestershire'. Studied at Oxford and became a tutor in Little Sodbury. Local clergymen complained about his views. He asked the bishop of Durham's permission to translate the Bible but was refused. He studied in private with the support of a cloth merchant Humphrey Monmouth in London.
Left England for Hamburg, then Cologne and possibly enrolling at Wittenburg's university ('Guillelmus Daltici ex Anglia'). There translated the New Testament in 1524 and was taught Hebrew. Copies were smuggled to England and Scotland a year later whereat they were condemned and publicly burned. Tyndale moved to Antwerp at some point. William Warham, Archbishop of Canterbury, wrote in May 1527 to all his bishops asking them to share the cost of buying up copies in order to burn them.
In 1530, he wrote The Practyse of Prelates, condemning Henry VIII's planned divorce and remarriage to Anne Boleyn; he claimed it was Cardinal Wosley's plot to entangle the King in papal intrigue to hamper reformation. The King was furious and became his personal enemy, reqesting his extradition, but the emperor demanded evidence.
In the spring of 1535, however, a young Englishman wanting money, Henry Phillips, insinuated himself into the English House where he stayed and Tyndale's trust, feigning interest in the work of Bible translation, and borrowing money from him. Phillips had gambled his father's money and had fled abroad. He promised someone in authority that he could betray Tyndale for cash. On the morning of 21 May 1535, having arranged for the imperial officers to be ready, Phillips tricked Tyndale into leaving the English House. In the alley he was seized. The officers later said 'that they pitied to see his simplicity when they took him'.
He was arrested, held at the Vilvorde castle near Brussells for 16 months. He once wrote asking to be allowed some of his own warmer clothing which had been confiscated; what he had was worn out, and he was suffering from a perpetual cold and catarrh. Tyndale added: 'And I ask to be allowed to have a lamp in the evening; it is indeed wearisome sitting alone in the dark.' Most urgently he asks to be permitted to have 'the Hebrew bible
He was tried on a charge of heresy in 1536 and was condemned to be burned to death. Thomas Cromwell, Henry VIII's chief minister tried to save his life. 6 October 1536, strangled at the stake then his body burned. He died praying for the king of England. Within four years, the Great Bible was published largely based on Tyndale's work.
Cromwell's agent John Hutton wrote to him from Brabant on 13 December 1536, 'They speak much of the patient sufferance of Master Tyndale at the time of his execution'.
Sir Thomas Morre on Tyndale: 'a hell-hound in the kennel of the devil'; 'discharging a filthy foam of blasphemies out of his brutish beastly mouth'.
Achievements
First translated the Bible into English directly from the Greek and Hebrew (Wycliffe's was from the Latin)
One estimate suggests that the New Testament in the King James Version is 83% Tyndale's and the Old Testament 76%.
In 2002, Tyndale was placed at number 26 in the BBC's poll of the 100 Greatest Britons.
Fluent in French, Greek, Hebrew, German, Italian, Latin, and Spanish, in addition to English.
Bishop Westcott, 1868: 'His influence decided that our Bible should be popular and not literary, speaking in a simple dialect, and that so by its simplicity it should be endowed with permanence'
The 1526 Worms New Testament is rightly a treasure of English-speaking culture, for its mastery of both the Greek and English languages. Quite apart from the theological impact of these pages, many English phrases have gone into common use: 'the spirit is willing'; 'fight the good fight'; 'the powers that be'.
Controversy
Wrote The Obedience of a Christen man, and how Christen rulers ought to govern, wherein also (if thou mark diligently) thou shalt find eyes to perceive the crafty convience of all iugglers. (1528)- advocates the divine right of kings.
Quotes
"They have ordained that no man shall look on the Scripture, until he be noselled in heathen learning eight or nine years and armed with false principles, with which he is clean shut out of the understanding of the Scripture."
When a clergyman said to Tyndale, "We had better be without God's laws than the Pope's." Tyndale: "I defy the Pope, and all his laws; and if God spares my life, ere many years, I will cause the boy that driveth the plough to know more of the Scriptures than thou dost!"
"Lord! Open the King of England's eyes."
"I perceived how that it was impossible to establish the lay people in any truth except the Scripture were plainly laid before their eyes in their mother tongue."
"For if God be on our side, what matter maketh it who be against us, be they bishops, cardinals, popes, or whatsoever names they will?"
"To have a faith, therefore, or a trust in anything, where God hath not promised, is plain idolatry, and a worshipping of thine own imagination instead of God."
"I call God to record against the day we shall appear before our Lord Jesus, that I never altered one syllable of God's Word against my conscience, nor would do this day, if all that is in earth, whether it be honor, pleasure, or riches, might be given me."
"The preaching of God's word is hateful and contrary unto them. Why? For it is impossible to preach Christ, except thou preach against antichrist; that is to say, them which with their false doctrine and violence of sword enforce to quench the true doctrine of Christ."