Addingham, Cumbria: a Church with No Village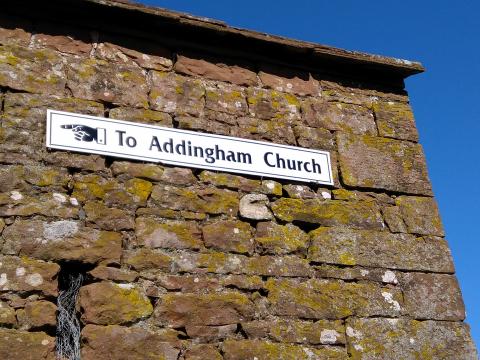 When I think of Addingham, I think of the pretty village in Yorkshire. Last month, however, I called at Addingham Church in Cumbria. Unusually, it is a church without a village. In contemporary Britain, it is the other way round; we have villages and towns with no or next-to-no gospel witness. Secularisation and spiritual ignorance are both root and branch of church closures. It is believed that the Saxon settlement of Addingham was washed away during the 13th century, when the River Eden changed its course, washing it away, rendering it a church without a community. Yet it was, and is, still used; when we arrived, a lady vicar was changing into vestments to inter some ashes as a family gathered to observe. The state church's parish network appears sensible and well designed on paper: dividing England into 12,500 fractions, it gives each a church and a vicar who can tend to their needs and preach to them the gospel.
In reality, English clergymen are a mixed lot, some more interested in easy livings or woke liberalism that preaching God's truth. John Wesley regarded all the world his parish on account of the many incumbents who refused to preach the gospel in their churches, trespassing on their comfort. Congregational churches, like ours, still typically serve a geographical area, which is delineated by a congregation's willingness and ability to travel rather than some local geo-political boundary. Furthermore, people will travel further if the spiritual food is worth it. I would not travel ten miles for a pork pie, but for roast beef, I might. In this age of internet recordings and live streaming, we may worship on other continents from the comfort of an arm chair. However, it is worth asking yourself: if I am watching worship from my home on a screen because the music is better or the preaching nicer, am I partly to blame when my local church closes down for want of support? Churches unattended by people always result in communities having no churches to attend.