Ancient Hills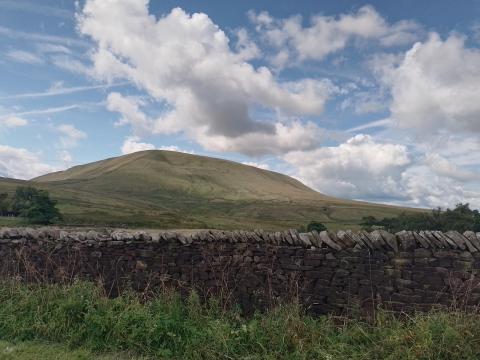 To say goodbye to the current members of the Yorkshire Camps training team on Sunday, we walked between the morning and evening services. We went from Martin Top to Twiston and then up towards Pendle, and then descended to Downham. In between the Lancashire rains, we saw blue sky and even some sunshine, so that by the time of our return, we were dry enough for evening worship.
One can never walk in great Pendle's shadow and not feel overawed. Spake Moses in Deuteronomy 33:14-16 (New King James Version):
With the precious fruits of the sun,
With the precious produce of the months,
With the best things of the ancient mountains,
With the precious things of the everlasting hills,
With the precious things of the earth and its fullness,
And the favour of Him who dwelt in the bush.
Let the blessing come 'on the head of Joseph,
And on the crown of the head of him who was separate from his brothers.'
While bestowing a blessing on the tribes of Joseph, he espied the coming Christ, the One who would be truly separated from His brethren, not just by slavery, but by death. Yet even those who cannot detect Christ in the ancient scriptures must surely wonder and marvel at the glory of the hills, and the great God who made them:
In His hand are the deep places of the earth;
The heights of the hills are His also. Psalm 95:4
If I had a remaining month in northern England, I should be well pleased to spend a day of it beneath fair Pendle's dramatic slopes. Pretty villages are lovely, and isolated hamlets are quaint, but the giant hills better bespeak the Creator's majesty.