Be Grateful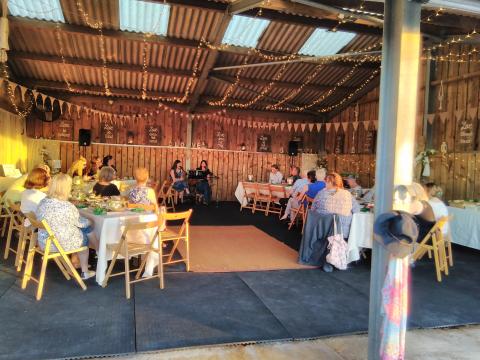 Last night was one our Friday Light events, an informal get together of food and company. We gathered in one of our member's barns which had been suitably decorated for the occasion to eat barbequed food and hear Becky H and her daughter sing to us. Talented they are, their songs both thought-provoking and moving. To close, we sang a few together, including O Lord My God, When I in Awesome Wonder, which, with the incredible views and an August sunset, helped seal the evening. The 'do' was well attended and the Holy Spirit was not absent.
One point that particularly challenged me was our need for greater gratitude. We need to work on this as it does not come naturally and readily. Let us, we were urged, thank God for what we have, instead of focussing on what we have not. The Christian, in particular, will be grateful for the Lord Jesus, who made Himself ours. A greater sense of contentment and even pleasure for what we have may indeed be a great remedy for those dark, lean times through which we inevitably pass.
I was truly blessed tonight. I cycled home, grateful.
A Psalm of David: No 138
I will praise You with my whole heart;
Before the gods I will sing praises to You.
I will worship toward Your holy temple,
And praise Your name
For Your lovingkindness and Your truth;
For You have magnified Your word above all Your name.
In the day when I cried out, You answered me,
And made me bold with strength in my soul.