Cockayne at Youlgreave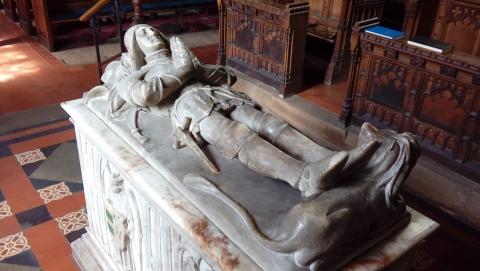 Youlgreave Church near Bakewell is one of my favourites in Derbyshire. A number of treasures are found within, but I would focus on a small slab tomb upon which is the effigy of a small man. He wore his hair according to the fashions of the fifteenth-century. He was called Thomas Cockayne, and passed from this life back in 1488. He was en-route to the church in the Warwickshire village of Polesworth, accompanied by his friend Thomas Burdett. They had disagreed about a family marriage settlement, and the argument turned into a brawl during which he was killed. Other sources say the pair duelled, and another that Cockayne merely stumbled and fell onto his friend's sword, which sounds like a rather poor defence offered by Burdett to account for his companion's death. The effigy is smaller than life, as the contemporary custom demanded of anyone who died ahead of their own father. The death was as unnaturally timed as the depiction is unnaturally sized.
I cannot vouch for the pair's spiritual state; their inclination to swordplay may indicate a rather violent spirit. Nevertheless, we may learn a lesson here. Disagreements and arguments between friends may escalate beyond our control if we do not rein them in. It is better to lose an argument that win a duel; it is better to yield then to kill a friendship.