Cold Isel Churchyard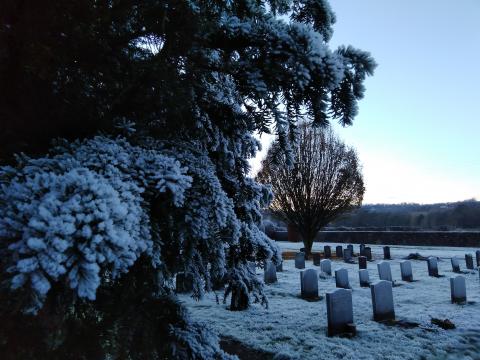 At Isel churchyard in Allerdale, northwestern Cumbria, the frost was thick as snow. The temperatures had been below zero for several days, and the ice crystals had formed little spikes. It added a chilling beauty to the gravestones against the fading blue of a wintry dusk. Death is a freezing of the body: what was once characterised by heat and motion is now cold and stiff. That which once housed life, thought and personality is now but a husk, a shell, a pile of old clothes awaiting the laundry. Likewise, the dead in Hades add no more memories or experiences to their CVs; they hold no more conversations nor harbour ambitions. Their lot is to await the arrival of the dreadful Judge before whom they shall be arraigned.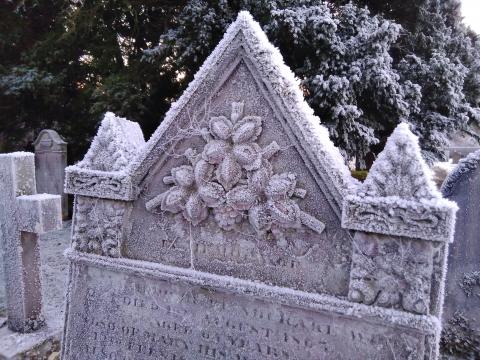 One of the stones, inevitably, was in the shape of a cross, reminding me that Christ too, entered the cold tomb and endured a dark separation from God the Father. As I turned to leave, a light still shone in the little church there. Though its inside was little warmer than the outside, the yellow light gave it a warm feel, a beautiful contrast to the freezing Narnia without.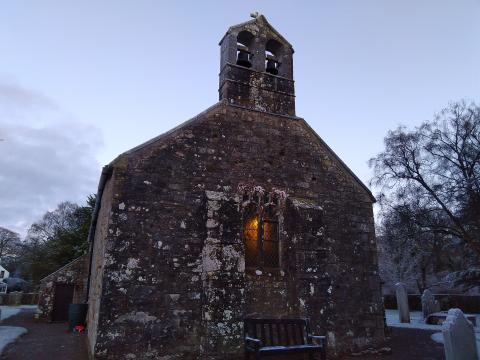 Solomon asks in Ecclesiastes 4:11:
Again, if two lie together, then they have heat: but how can one be warm alone?
Life without Christ is cold, lonely and pointless. Life with Him is warm, joyous and meaningful. Though we spend many a year in the coldness of this fallen world, I daresay His prepared mansions boast roaring fires and homely welcomes.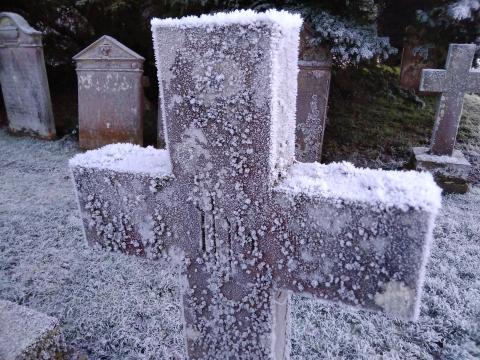 Why weep for me, for I'm anxious to go,
To that haven of rest where no tears ever flow;
And I fear not to enter that dark lonely tomb,
Where our Saviour has lain and conquered the gloom.
I rest in the hope that one bright day,
Sunshine will burst through these prisons of clay;
And old Gabriel's trumpet and voice of the Lord,
Will wake up the dead in the old churchyard.
The Old Church Yard (English folk song)