A Crown of Flowers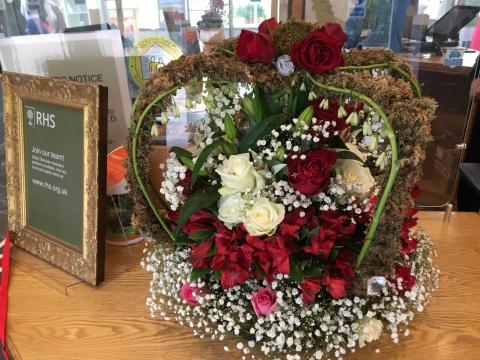 Finding that I had some rare free time alone I decided, that as a member of the Royal Horticultural Society, I would visit the Harlow Carr Gardens at Harrogate. It being a rather cold, dull start to the day before the coronation of our new King, few were the visitors. The whole ambience of the place was one of peace. I was able to blissfully enjoy the magnificent and abundant chorus of birdsong whilst meandering at leisure among the vast array of horticultural tree and plant collections and specimens from around the world.  
But one particularly attractive floral display had caught my eye near the information desk at the reception when I handed over my RHS card to gain entrance to the gardens. It was of a floral crown in honour of the new King, Charles III. Although I find attractive the 'precious jewel' variety of kingly head adornment, the simplicity of this garden's tribute of sweet, scented roses was quite beautiful.
How different, I pondered, to the crown of sharp thorns which my dear Saviour, Jesus Christ, wore for me that day when He bore my sins and those of the whole world in His body on the tree at Calvary.
O sacred head sore wounded,
With grief and pain weighed down,
How scornfully surrounded
With thorns, Thine only crown!
How pale art Thou with anguish,
With sore abuse and scorn!
How does that visage languish
Which once was bright as morn!
-Bernard of Clairvaux and Paulus Gerhardt; tr Dr Alexander