Crowning Wisdom: Cullinans Cut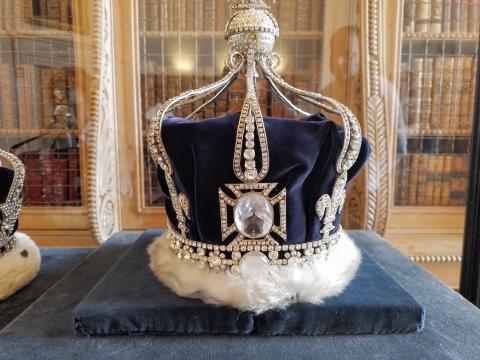 As well as crowns for the sovereign, the British regalia has a number of pieces designed for those who are not going to reign, but will accompany the ones who are. Only worn by the queen consorts, these consort crowns are wonderfully splendid, if not equally splendid, to those worn by monarchs. Queen Camilla shall wear the Queen Mary's, which usually has eight arches rather than the more typical four, and has a hint of Art Deco about it. Particularly beautiful are the crown's Cullinan III, IV and V diamonds. These were all cut from the largest rough diamond ever found, measuring 3,106 carats or 620 grams. They are named after Thomas Cullinan who owned the mine in which it was found. When cut, it yielded a number of smaller, polished pieces which remain in the regalia. 
We sometimes speak of people being 'rough diamonds'; essentially nice enough folk but a little uncouth, unlettered or gruff. Yet when a real diamond is broken up and cut, it better sparkles and shines. God often breaks and reduces His saved people that they might better reflect His light and magnify His glory. The Cullinan diamond was worth more afterwards than before, and God's people too. 
Spirit of the Living God,
Fall afresh on me.
Break me, melt me, mold me, fill me.
Spirit of the Living God,
Fall afresh on me.
-Daniel Iverson, 1926