Echo and Narcissus (1903)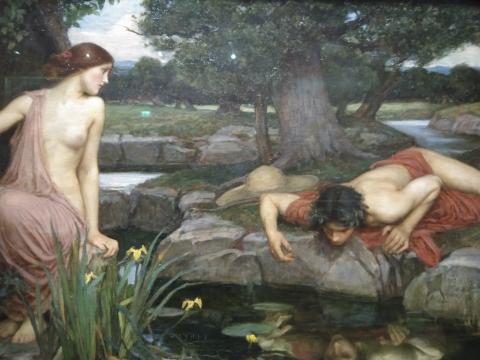 Echo and Narcissus (1903) by John William Waterhouse (died 1917) is an oil on canvas depiction of the ancient Roman myth. Echo loved the vain Narcissus, but having been rejected, she pined away until only her voice remained. As punishment, the beautiful Narcissus became infatuated with his own reflection. Waterhouse represents the self-absorption of Narcissus, oblivious to Echo nearby. She demonstrates unrequited love, which was favourite theme for Waterhouse. The landscape is sinister yet also decorative. Yellow narcissus (daffodil) flowers will grow on the spot where Narcissus dies. Waterhouse has painted a small clump near his foot, which cannot be seen in my picture.
Much that passes for human love is, like the classical myth, cruelly unfulfilled or entirely self-serving. The agape love with which God regards humans, however, is entirely pure, fulfilling, selfless and magnanimous.
Behold what manner of love the Father has bestowed on us, that we should be called children of God! 1 John 3:1