Eldroth's Monastic Window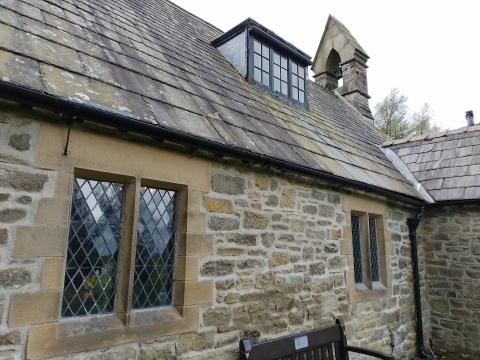 About little Eldroth Church, I have written before. It is where my ancestors worshipped during the civil wars and it remains a quiet place of rustic charm. I called again last month, and met a pleasant, friendly lady who was vacuuming. She shared something which I have heard repeated before, but cannot find verification. The little church's large window over its communion table originally belonged to one of the great Yorkshire abbeys of Rievaulx or Jervaulx (I forget which, and yes, they are both in Yorkshire, not France). As the great monastic houses were broken up in the 1530s and Eldroth's church was built in the 1620s, it seems unlikely, though not impossible.
The window is certainly built in a perpendicular style which would have been rather old fashioned for the seventeenth-century, though admittedly somewhat modern for most abbeys. Someone may have pilfered the stone tracery from the abbey and installed it at their own house, for a later generation to donate to this plain little church. Further evidence of this rebuilding work is the rather clumsy state in which it sits. The external tracery appears to be on the church's inside, thus rendering the window back to front. Furthermore, the window is not quite central, giving it a rather crude appearance. So, could it be a medieval, monastic window in a relatively modern church? We shall never know, and in one respect, do not need to. Does it admit light? Does it keep out the draught? The answer to both question is "aye".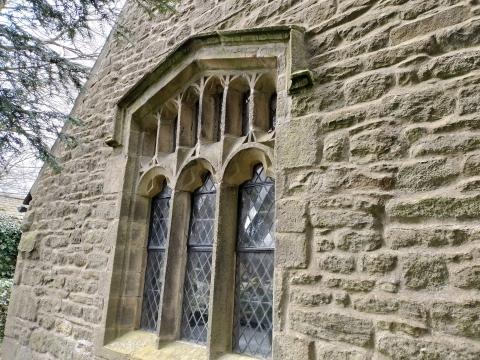 Whatever the church or denomination's name, origins or relative position, may each shelter its people from the cold blasts of worldly wisdom and admit the pure light of Christ's word. Even those old popish monks had access to the truth and might have preached aright some of the gospel we Protestants know so well.
Come, Holy Spirit, come;
Let thy bright beams arise;
Dispel the darkness from our minds,
And open all our eyes.
[Cheer our desponding hearts,
Thou heavenly Paraclete;
Give us to lie, with humble hope,
At our Redeemer's feet.]
Revive our drooping faith;
Our doubts and fears remove;
And kindle in our breasts the flames
Of never-dying love.
Convince us of our sin,
Then lead to Jesus' blood;
And to our wondering view reveal
The secret love of God.
If thou, celestial Dove,
Thy influence withdraw,
What easy victims soon we fall
To conscience, wrath, and law!
-Jospeh Hart, Gadsby's Hymns, No 27 (some verses omitted)