Elston Church: Oh Deer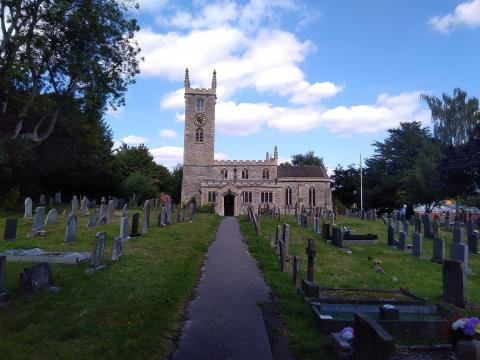 I called at All Saints' Parish Church in the Nottinghamshire village of Elston in the summer. It was not a planned excursion; Google Maps was warning of congestion on the motorways and A-roads ahead, and I would sooner await its remedy looking around a country church than sitting in the midde of it. Elston church is not especially remarkable, though it is not without some curious features, such as Rev John South's memorial brass of 1732 showing a skull, a grave-digger's spade and a spent hour-glass to warn the reader of his own imminent mortality. It also has a marble memorial to Erasmus Darwen, grandfather to Charles, which boasts his first mooting of the Theory of Evolution.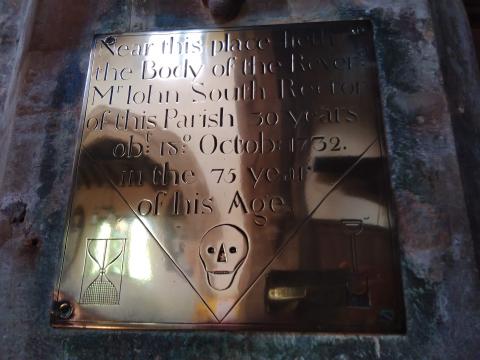 I examined some pillars and walls towards the nave's rear and found some crude graffiti and carvings. The guidebook stated that this area was once the village school, and I could see evidence of seventeenth- and eighteenth-century boys leaving their mark while their school master and his cain were distracted. A number of the carvings seem to be of stags, and I wonder if this particular young scholar would have preferred to be out hunting than learning Latin or his times tables. Art was clearly not offered on his curriculum, for he was not the most skilled of artists. Although crudely carving sandstone with a pocket knife is likely to cramp anyone's style, the rectangular torsos and stick legs hardly breathe life into the representations. To his credit, however, we can still detect what they are meant to be. Four hundred years later, and his little stags and deer can still be distinguished, whereas some of the other artistic offerings are undecipherable or too badly worn to comprehend.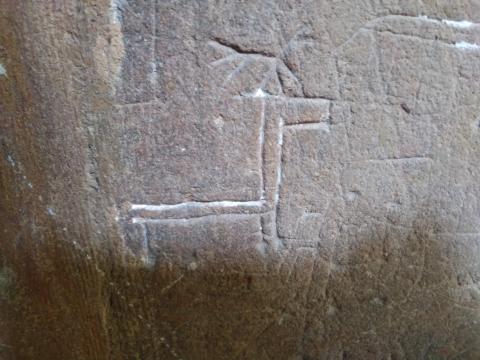 Do you ever find your prayers or your thoughts in worship are lacking the right words; your vocabulary too poor, your expression too restricted? I sometimes feel like an idiot trying to express my feelings to God, as though I were communicating in a foreign language in which I was barely competent. Yet the great God of heaven, whose angels communicate with an exquisite eloquence and perfect articulation, condescends to accept our stammering praise and lisping prayers. Your words might be crude, your expression obtuse, but like that little boy's carvings, they are perfectly understood and, best of all, enjoyed.
How pleasant is the gate
Where willing converts wait
For fellowship with Zion here;
Where they with wonder tell
How they escaped from hell,
And hope in glory to appear.
With wonder we attend,
While they the sinner's Friend,
With tears of holy joy, extol;
Each heart, once hard as steel,
Now made for sin to feel,
Bears tokens of a ransomed soul.
No more of self they boast,
But humbly own the cost
Of their salvation freely paid;
The sins which make them groan,
And must have sunk them down,
They now behold on Jesus laid.
J. Swain, Gadsby's Hymns, No 371