Expounding the Scriptures (1819)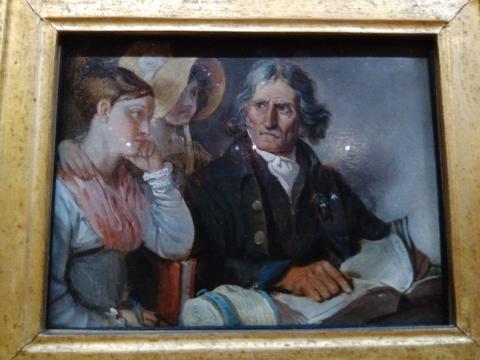 Edward Bird painted Expounding the Scriptures about 1819, the year of is death; it now hangs at Bristol's Museum and Art Gallery. The elderly man is Robert Underwood, a Bristol butcher. He is a stern-looking chap and no spring chicken, but the snowdrop in his button-hole might indicate a youthfulness and energy that his Bible reading bestows. Whether the two young ladies are listening with interest or polite boredom, one cannot tell.
To expound the scriptures is to determine their orginal meaning and to apply them to our lives, as opposed to merely pronouncing the words or regarding them as arcane literature. We evangelicals primarily meet to hear God's word expounded. Prayer is important and singing is helpful, but give me the word of God rightly divided and justly applied, and I shall leave chapel feeling content. If you go to a church which thinks singing more important preaching, speak to those in charge. If the so-called 'worship leader' is a more elevated office than Bible teacher, look for the door. What we say to God is important; what He speaks to us, vital. 
And a cloud came and overshadowed them; and a voice came out of the cloud, saying, "This is My beloved Son. Hear Him!" Mark 9:7, NKJV