Family Lessons 47: Mormon Baptism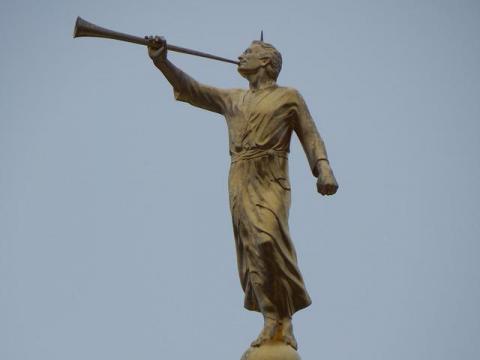 My 9x great-grandmother was Ellen Sasells, who born in 1619 in Cropton, North Yorkshire. On 1st December, 1675, she was duly buried at her parish church. She would have married her husband Richard Hobson at some point, and gave birth to five children: Richard, George, Thomas, Jane and Elizabeth, the first of whom is my ancestor. Apart from this, precious little information can be gleaned regarding this lady and her family. Imagine my curiosity when I discovered that, on 31st August, 1993, she received an additional baptism into the Church of Jesus Christ of Latter Day Saints. Some American Mormon, a distant cousin presumably, may have sincerely thought that offering her Mormon baptism would have released her into a better afterlife. How fortunate for Granny Sasells: for having a Latter Day Saint descendant, she may now enjoy the pleasures of the celestial kingdom.
We Bible believers reject such a notion. Goodwife Sasells was permitted to die once and then face the judgement. Baptism- at her Anglican Parish Church in 1619, or in some Mormon Temple four hundred years later, cannot effect salvation. Only Christ's own merits may render that, not some outward act or ritual. By the 1650s, most English pulpits were occupied by sound men of puritan bent; her response to the gospel alone would determine her eternal state. I hope to meet her one day; she may be waiting at the gates when I arrive. But nothing I can now do will affect her. What I do with the gospel now will certainly affect my eternal state.
So they said, "Believe on the Lord Jesus Christ, and you will be saved, you and your household." Acts 16:31
Image by ErikaWittlieb from Pixabay