Fleming of Skerwith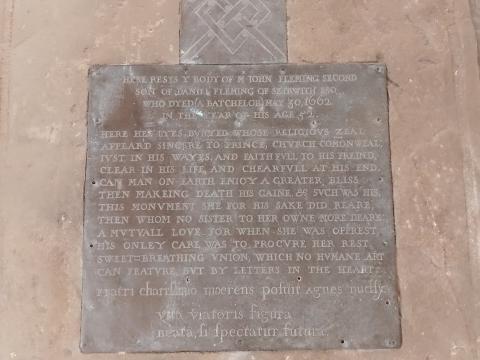 At St Luke's Church, Ousby, Cumbria, is a metal plaque in memory of John Fleming:
HERE RESTS YE BODY OF Mr IOHN FLEMING SECOND SON OF DANIEL FLEMING OF SKIRWITH ESQ WHO DYED A BATCHELOR MAY 30, 1662. IN THE YEAR OF HIS AGE 52.
So far, so normal, but then follows some verse, evidently provided by his sister, Agnes:
HERE HEE LYES BYRYED WHOSE RELIGIOVS ZEAL APPEARD SINCERE TO PRINCE, CHVRCH, COMONWEAL IVST IN HIS WAYES, AND FAITH FVLL TO HIS FREIND, CLEAR IN HIS LIFE, AND CHEARFVLL AT HIS END. •CAN MAN ON EARTH ENIOY A GREATER BLISS THEN MAKEING DEATH HIS GAINE. & SVCH WAS HIS: THIS MONVMENT SHE FOR HIS SAKE DID REARE, THEN WHOM NO SISTER TO HER OWNE MORE DEARE A MVTVALL LOVE, FOR WHEN SHE WAS OPPREST HIS ONLEY CARE WAS TO PROCVRE HER REST. SWEET BREATHING VNION, WHICH NO HVMANE ART CAN FEATVRE BVT BY LETTERS IN THE HEARTS
Fratri charidino moerens pofuit Agnes Dudly vita viatoris figura: Beata, fi fpectatur, futura
Being faithful to his friends might suggest a particular person; helping his sister 'when she was oppressed' also likely refers to a particular event or sequence of events to which the reader must remain ignorant. The Latin may be translated:
Agnes Dudly, mourning her brother Charidino, spoke of the life of a traveller:
Was this just the sentimental love for a sibling, or was our John a remarkable man, rescuing a sister from who-knows-what as well as standing by a friend? Well might such a one welcome death. In eternity, a whole host of long forgotten folk will have their biographies shared, the private acts of heroism published, the ancient examples of virtue and courage brought to the fore. What little we do for others and Christ, the great God sees, and remembers.
And let us not grow weary while doing good, for in due season we shall reap if we do not lose heart. Galatians 6:9, NKJV