Fuchsia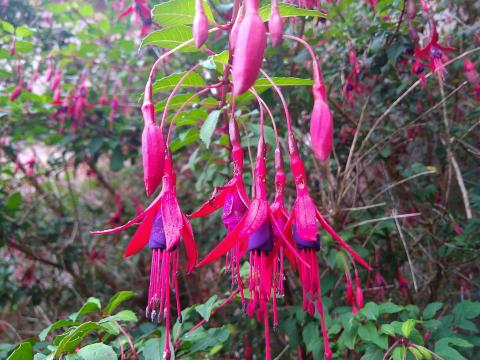 This fuchsia I found growing in the grounds of St Lawrence's Church at Moreland, near Penrith, Cumbria. Curiously, I read the claim that all parts of the fuchsia are edible, as well as the berries. Of course 'edible' need not mean tasty, nor even nourishing. I am content to enjoy fuchsias with my eyes rather than my taste buds.
In the third of Ezekiel, the prophet is instructed thus:
"Son of man, eat what you find; eat this scroll, and go, speak to the house of Israel."  So I opened my mouth, and He caused me to eat that scroll. And He said to me, "Son of man, feed your belly, and fill your stomach with this scroll that I give you." So I ate, and it was in my mouth like honey in sweetness. Then He said to me: "Son of man, go to the house of Israel and speak with My words to them.
God's message might be bitter to those who first hear it, but it is sweet indeed to those who believe it. It may be consumed in its entirety, and fully nourishing and strengthening shall we find it, if we do not pick and choose which bits to eat, and what to leave on our plates.
How sweet are Your words to my taste, Sweeter than honey to my mouth! Psalm 119:103