George Whowell's Skull
I went to the pub on Saturday to enjoy a pleasant lunch. Yet it was not my local, nor was the food the primary reason for my visit, much less the beverages there sold. I went to see the skull of George Whowell (probably pronounced "wow-ul").
The pub is the Pack Horse in Affetside, between Bury and Bolton districts of south Lancashire. Despite its rather boring name (it sits on Watling Street, the old Roman road over which traders and horses continued to bear their packages), it goes back to 1443, which makes it rather old even by English standards. There, in its own display case, sits the varnished skull. George Whowell almost certainly farmed at Whewell's Farm, Whowell's Farm or Butterworth's Farm in the various valleys around close by. He was likely a local farmer who doubtless enjoyed the occasional tipple at the Pack Horse.
In 1651, James Stanley, seventh Earl of Derby, was executed in Bolton town centre. An arch royalist and leader of Lancashire's cavaliers during the civil wars, he was deemed to be one enemy of the Commonwealth too powerful to live. Furthermore, he was a commander of the royalist forces that sacked Bolton in May, 1644. Bolton le Moors, as it was then called, was a centre of puritanism and a staunch supporter of the Parliament; to the likes of Lord Derby and Prince Rupert, it was a perfect target for royal vengeance. When town's defences were overcome, there was much fighting in the streets. The town was plundered and the citizenry attacked. Although only 78 deaths of locals are recorded in the parish registers, contemporary accounts from both sides put the figure of those slain between 200 and a whopping 1600. Even the lower figure puts Bolton's sacking as the worst single event of the war as far as civilian causalities are concerned. The royalist Earl who helped lead the attack was held responsible, and when defeated and captured after the battle of Worcester in 1651, it was to Bolton he was brought to face justice. Oliver Cromwell sought to spare his life, but Parliament overruled him, and the good people of Bolton sought payment for the dreadful massacre their town had suffered. He was given a last drink in Ye Olde Man & Scythe, before being escorted to the town cross where George Whowell awaited him, axe in hand.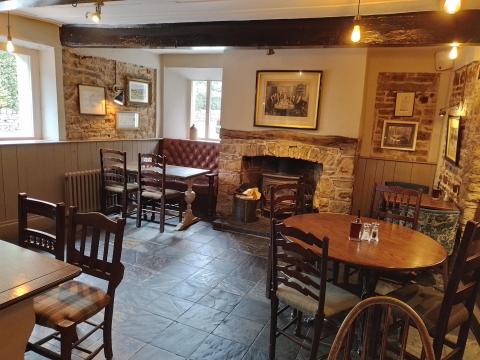 Why George Whowell was chosen is not clear. Some sources claim that he was the local headsman, but no post existed, for no Bolton court could order this penalty in normal circumstances; only Lancaster's assizes could order a man's death, and that, usually, by hanging. It might be that George was known for his strength, or strength of character (killing a man this way can have been no easy task, physically or mentally). Alternatively, he may have suffered personal losses as a result of the Earl's military actions. Not all of his children can have died, however; I was accompanied to the Pack Horse by one of his descendants. The other unanswered question is why his skull was not buried with his corpse in Bolton or Bury churches. It is with some irony that the man who beheaded an earl should have his own head separated from his cadaver and displayed in an ale house at which all may goggle and point. Certainly, a Butterworth family took on the pub's landlordship; George's relations may have preserved it in the tavern in which he once drank.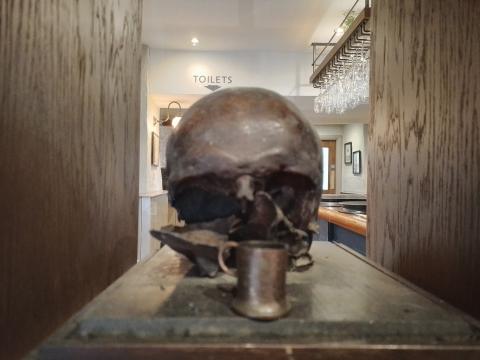 After the Restoration, executed royalists were increasingly considered martyrs; Cromwell and the regicides were exhumed, 'tried' and 'executed'. The Stanley Earls recovered their standing and fortunes, the 14th Earl even serving as Prime Minister three times between 1852 and 1868. Whether George was himself exhumed by spiteful Derby partisans, or his family thought best to get there first, I do not know. But at the Pack Horse pub, one may enjoy a drink and a hearty meal under the eyeless gaze of George Whowell, the man who beheaded an Earl. Some of the explanatory text around the skull's case quotes a tradition that if the skull is removed, 'strange things will occur'. Interestingly, James Stanley's courtesy title was Lord Strange.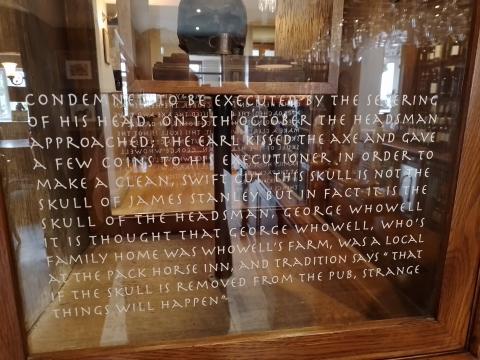 A lesson we might draw from this varnished skull is the length of retribution's arm. Lord Stanley presided over the worst massacre in the British civil wars, but justice caught up with him, quite possibly in the shape of a man he turned widower. Yet even that man, the Boltonion angel of death, somehow had his head removed, publicly displayed for the entertainment of the curious and the shrugs of the indifferent. The measure we use to others will be used for us; the high standard by which we judge others shall be the criteria by which our own actions shall be tried.
For with what judgment ye judge, ye shall be judged: and with what measure ye mete, it shall be measured to you again. Matthew 7:2
For he shall have judgment without mercy, that hath shewed no mercy; and mercy rejoiceth against judgment. James 2:13
Thank God for His grace!
If now I have found grace in thy sight, O 

Lord

, let my 

Lord

, I pray thee, go among us; for it is a stiffnecked people; and pardon our iniquity and our sin, and take us for thine inheritance.
Exodus 34:9