Godly Graves of Lochcarron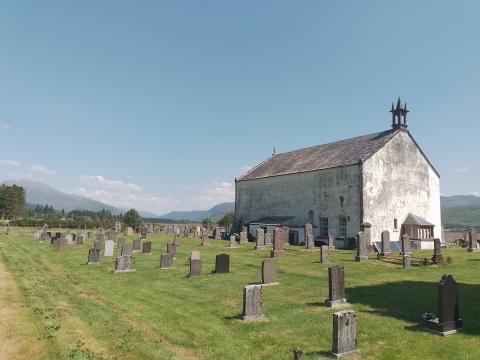 Lochcarron Old Parish Church, overlooking the loch, is currently being converted into a home. The graveyard, however, is still in use, with interments still taking place. I wandered about it, pondering the prospect of living in a house surrounded by cadavers, offset against the stunning beauty of the mountains and water. The burial ground at Salem Chapel is attractive, but it cannot compete with this. As well as containing those gravestones recording sentimental grief ('Till we meet again', 'Gone but not Forgotten', 'Always in our Hearts') there were some that witnessed to gospel truth, some of which commemorated local ministers.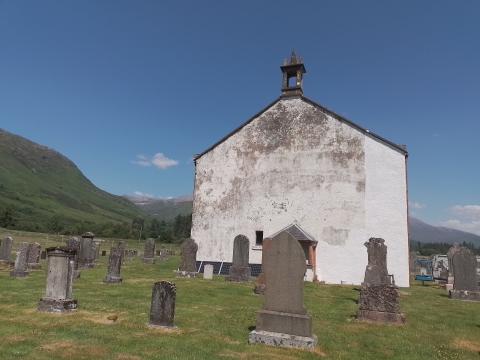 Malcolm MacDonald's gravestone quoted Psalm 121, vs 1-2:
I to the hills will lift mine eyes, from whence doth come mine aid. My safety cometh from the LORD, who heav'n and earth hath made.
Rev Kenneth MacDonald's quoted Psalm 17. v. 15:
As for me, I will behold thy face in righteousness: shall be satisfied, when I awake, with thy likeness
Rev Alasdair Gollan's quoted Philippians 1:23:
With Christ which is very far better
John Walter Ross' ('Minister of the gospel of Jesus Christ in Lochcarron for 32 years') quotes the Saviour and then repeats the vital question:
JESUS SAID,
"I AM THE RESURRECTION AND THE LIFE
HE WHO BELIEVES IN ME, THOUGH HE MAY DIE.
YET HE SHALL LIVE AND WHOEVER LIVES AND BELIEVES IN ME SHALL NEVER DIE.
DO YOU BELIEVE THIS?"
These godly men continue to speak of truth and gospel hope even after their time on earth concluded; they being dead, yet speak, and sometimes in a clearer voice than we who live.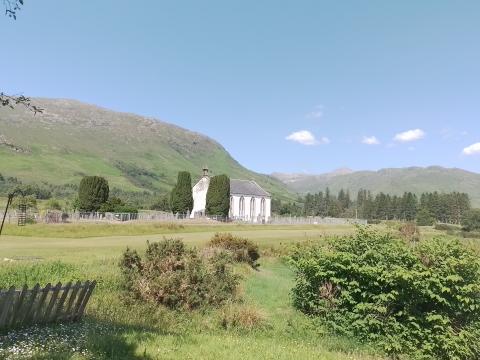 What shall the dying sinner do,
That seeks relief for all his woe?
Where shall the guilty conscience find
Ease for the torment of the mind?
How shall we get our crimes forgiven,
Or form our natures fit for heaven?
Can souls, all o'er defiled with sin,
Make their own powers and passions clean?
In vain we search, in vain we try,
Till Jesus brings his gospel nigh;
'Tis there that power and glory dwell,
That save rebellious souls from hell.
This is the pillar of our hope,
That bears our fainting spirits up;
We read the grace, we trust the word,
And find salvation in the Lord.
[Let men or angels dig the mines
Where nature's golden treasure shines;
Brought near the doctrine of the cross,
All nature's gold appears but dross.]
Should vile blasphemers, with disdain,
Pronounce the truths of Jesus vain,
We'll meet the scandal and the shame,
And sing and triumph in his name.
Isaac Watts, No 57, Gadsby's Hymns