Gorton Monastery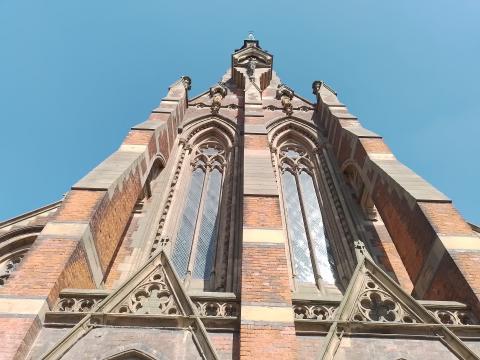 Last week I called at what is commonly called the Manchester Monastery at Gorton. Yet it never was a monastery, but rather a church and a friary, though it certainly lacks none of the grandeur of the old abbeys. This church and friary of St Francis was designed by the famous church architect Edward Welby Pugin for the Franciscan Recollects. It is described by the Pugin Society as the largest 'monastery' parish church that he built. Gorton Lane was still mainly rural in the 1860s when this great building began to rise. When it closed in 1989, it was part of the concrete sprawl we call Greater Manchester. In the nineties it fell into disrepair, having been stripped by developers and thereafter vandalised. It is now restored and used for corporate and community events, such as large venues near urban centres typically become.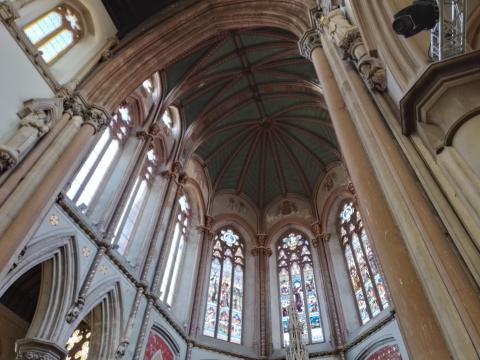 What struck me about its modern useage was the number of pagan and occultic events which it now hosts, and for which various leaflets were kept by the entrance. For example, 'Intentions Of Healing':
CONNECT WITH THE DIVINE ANGELS THROUGH ANGELIC REIKI
FOR APPOINTMENTS AND MORE INFORMATION ON ONE-TO-ONE ANGELIC REIKI SESSIONS, ORACLE CARD READINGS, REIKI TRAINING AND FUTURE WORKSHOPS
SATURDAYS BY APPOINTMENT ONLY
ANGELIC REIKI £30 / ORACLE CARD READINGS £25
Or how about this one:
A CIRCLE OF ANGELIC LIGHT
IT'S TIME NOW TO CONECT WITH THE ANGELS MEDITATION HEALING AND WISDOM:
Welcome to A Circle Of Angelic Light - where you will have an opportunity to connect to the amazing Archangels, Angels, and divine beings of light. Through meditation, Angel Oracle Cards, Quartz Crystal Singing Bowls, and healing discussion. When we communicate with Angels, they will help us move towards a remarkable transformation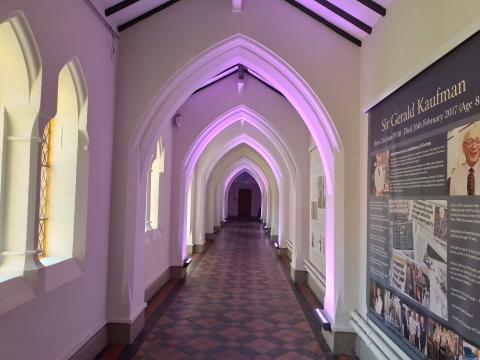 Some others sounded like plain, self-help with a bit of spirituality thrown in:
Transformational Journeys: Living Life Somatically
SERIES OF 4 WORKSHOPS: UNDERSTANDING YOURSELF - FROM A DEEPER LEVEL PERSPECTIVE
In the workshops [we] will explore How and Where Stress gets Stuck - Physically, Emotionally, Mentally, the connection with the nervous system and our subconscious patterning; the impact of all on our energy levels, and how we can so easily get stuck in a vicious circle as one impacts on the other.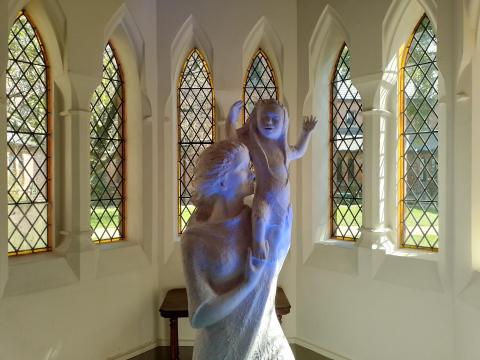 Godless Britain closes down churches and then wonders at the spiritual dearth and vacuum that is left behind. Rather than turning to a gracious Saviour, Jesus Christ, we reach out to supposed angels and spirits, much as the building's previous occupants sought the good will of Mary and the saints. Others simply reach out to themselves, seeking inner healing by altering their psychic state. We know something is wrong with us, but we cannot fathom what it is nor its right remedy. We would seek to mend ourselves rather than apply to the great Healer, Jesus Christ.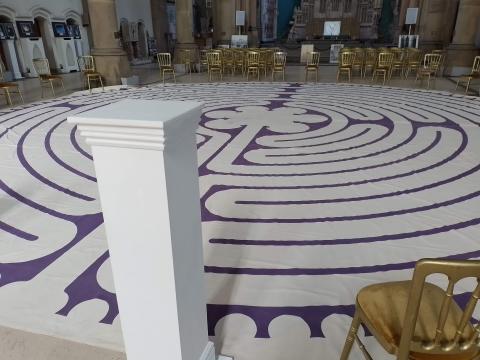 Gorton Monastery bespeaks both artistic wonder and architectural prowess, as well as deep spiritual ignorance. We naturally feel our spiritual need, but are blind to the solution.
Then Jesus spoke to them again, saying, "I am the light of the world. He who follows Me shall not walk in darkness, but have the light of life." John 8:12, NKJV