His Soul is like a Feather, his Body is like a Stone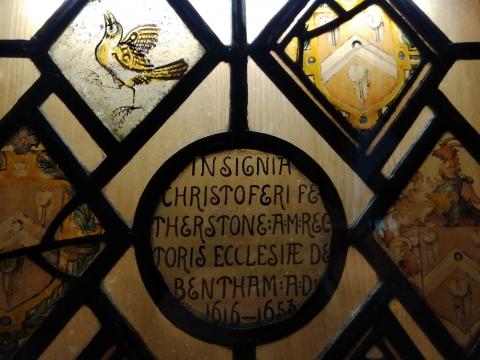 Inside the parish church at Low Bentham is a window and brass commemorating the Reverend Christopher Fetherstone. He was educated at Sedbergh School, which he left in 1599 to enter St John's College, Cambridge. He probably became Vicar of Appleby in 1613, but was appointed Rector of Low Bentham in 1616, a post he held until his death in October, 1653. To have held his post at Bentham during the civil wars and into the Commonwealth suggests that he was a man of sound puritan leaning, meeting the approval of the Parliament's 'triers and ejectors'. He probably endured some grief under the wicked prelacy of Archbishop Laud in the 1630s, but lived to see England become a godly republic. A brass commemorating him, which includes in word play on his surname, is found in both Latin and English and states:
'His soul is like a Feather, his body is like a stone'
If his light soul trusted Christ as saviour, and not a piece of communion bread or the accolades of his learning, then it would have been gently wafted to glory and not brought down to the Pit.
Blessed are the poor in spirit: for theirs is the kingdom of heaven. Matthew 5:3