Hyssop: The Redundant Bush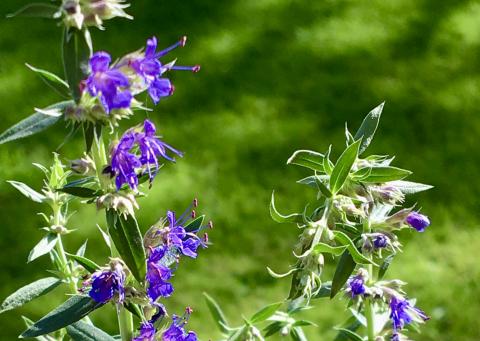 I do like to grow herbs.
Not being adventurous with culinary delights in the kitchen, adding herbs can transform the 'ordinary' into, what one hopes, will be, 'extraordinary'. This may be taken two ways, depending on the outcome!
Lemon balm, marjoram, lavender and rosemary were already residents at No.42 when we moved house. Also, the mint family was more than adequately represented by running amok to its heart's content, minding its own business. Fennel, a gift from my neighbour over the hedge, prefers its own company, standing alone and forlorn. I feel it comes under the category, 'not sure what to do with this!'
Hyssop is my 'newbie'.
Hyssop officinalis, to give it its proper, grownup name, is a semi-evergreen shrub sporting spikes of blue flowers, which bees love. This will please keen environmentalists. To know what to do with my scrubby little thing, I had to search the popular gardening websites. Thus, I have found that I can use it next time I distil certain liquors – and it will give the well-known green colour to absinthe, should I ever wish to.
Happily, I discovered that it is also used as an alternative to sage!
 In Biblical times, hyssop was linked with ritual cleansing and forgiveness of sins. Stalks of hyssop were used as a brush with which to daub things.  So, we read in the Old Testament in Exodus 12:21-28 that the Hebrews were told to use it to dip into the blood of the Passover lamb, putting some of the blood on the top and on both sides of the doorframe. If the family stayed inside, under the cover of the blood, they would be protected.  No destructive plague would touch the occupants when Egypt was struck. 
King David, in Psalm 51:7 cries out in penitence for him to be cleansed with hyssop according to the terms of the Old Covenant.
In the New Testament when Jesus Christ was crucified, a vinegar-soaked sponge on hyssop was offered to His parched lips. By His death the debt and punishment that sinners deserve was paid.
'When he had received the drink, Jesus said, "It is finished".
John19:30 NIV
The divine ceremonial paintbrush was made redundant.