Lancashire Sauce
Here in Australia, a number of familiar sights remind me of home, not least from the contents of the pantry. For example, we drink English tea, even if Australians curiously insist on each of their tea-bags having a little string attached to a paper pull, much as Englishmen might expect in their hotels (bottom). Yet the tea is the same- Yorkshire Tea- the brand with which we northerners are chiefly familiar.
Next, we a have a bottle of sauce for use on meats, a staple of the Australian diet. It calls itself Lancashire Relish. Yes, another traditional English condiment with which Mother England has generously doused her plates for countless generations and…hold on, who has ever heard of Lancashire Relish? Not I.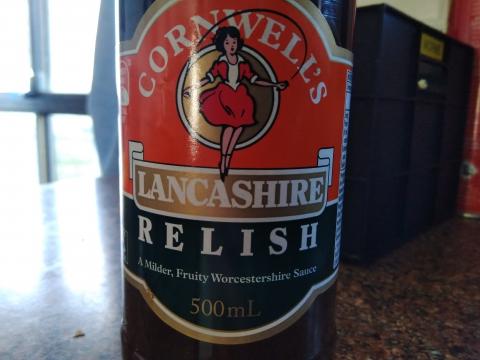 Woolworth's (an Australian supermarket) explains:
With no artificial flavours or preservatives, Cornwell's Lancashire Relish gives a tasty flavour to a variety of grilled meats. Perfect for use in meatballs and on roasted vegetables. This Relish is a milder, fruity Worcestershire sauce. This kitchen staple enhances the savouriness of any dish.
Worcester Sauce, I know; Worcestershire Sauce I don't, and Lancashire Relish not at all. I searched 'Lancashire Sauce', and behold, a Hyndburn company claims to manufacture Grandma Entwistle's Genuine And Original Lancashire Sauce:
Lancashire Sauce is an oil free, mildly spiced liquid seasoning, which is suitable for Vegetarians and Vegans. It greatly enhances the flavour of your food. Use it in the same way you would salt, pepper, or vinegar i.e. Before cooking as a marinade, during the cooking process or on the finished product...or indeed all three! The sauce represents the county's strong identity for tasty, traditional food and successfully compliments this type of fayre. In addition to this, the blend of spices we use appeal to a much wider taste and cuisine making it probably the most versatile sauce in the world!
And yet I who have never heard of it must needs travel eleven thousand miles to discover it. Sometimes, we must go far to realise what we have left behind. It sometimes takes a separation to see the love in a relationship, a leaving of the nest to understand a parent's love, a week in bed to be grateful for rude health. I think this is why Christian testimonies often seem to be rather dramatic, describing some awful circumstance which led them to relationship with Christ. See the good things you have, the blessings received, the love bestowed before you have it taken away. See it while you have it, and before you are separated.