Little Lord Clifford
In Skipton's Holy Trinity Church sit a number of late medieval tombs belonging to the local lords- the Cliffords. They were the Earls of Cumberland and often lived at Skipton Castle or nearby Barden Tower. As one might expect, these memorials are made of heavy Purbeck marble and are awash with shields and armorial insignia. They are well maintained, and the gaudy colours doubtless reflect the original grandeur. Various people are depicted, all stock images in stylistic dress and pious posture. Any number of ancient country churches will boast similar tombs.
One tomb stands out, for it is painted white and is noticeably smaller than the others. Upon it is written:
HERE LYES EXPECTING Ye SECOND COMEING OF OV LORD & SAVIOVR IESYS CHRIST THE DEAD BODY OF FRANCIS LORD CLIFFORD FIRST CHILD TO GEORGE CLIFFORD EARLE OF CVMBERLAND BY HIS BLESSED WIFE MARGRETT RVSSELL COVNTESSE OF COMBERLAND Wch. FRA LORD CLIFFORD WED (WHERE HE WAS BORNE) IN SKIPTON CASTLE IN CRAVEN A BOY Ye ELEAVENTH OF DECEMBER IN 1589 BIENG OF The AGE OF FIVE YEARES AND 8 MONTHES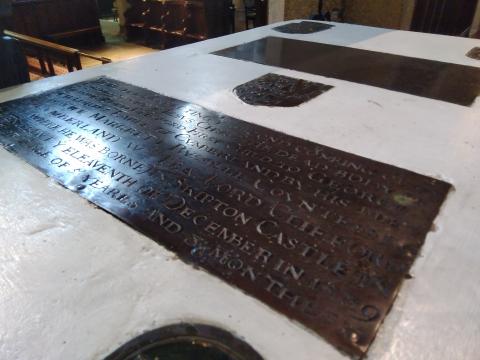 Here is the tragic death of a small child. What understanding of theology and eschatology he had, we cannot tell, but the opening clause indicates his anticipation of the Lord Jesus' return. From whatever temptations and sins available to a Tudor lord, this little lad was spared. Perhaps in his innocence or child-like trust, the return of the Judge was a blessed hope, whereas for many dissolute nobles of old it will be a terrible prospect of judgment and account.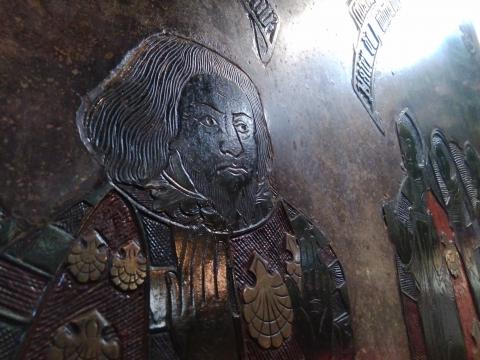 Then the sky receded as a scroll when it is rolled up, and every mountain and island was moved out of its place. And the kings of the earth, the great men, the rich men, the commanders, the mighty men, every slave and every free man, hid themselves in the caves and in the rocks of the mountains, and said to the mountains and rocks, "Fall on us and hide us from the face of Him who sits on the throne and from the wrath of the Lamb! Revelation 6:14-16, New King James Version