Mercy Gate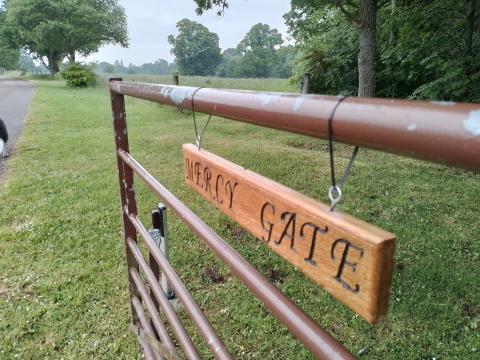 In the lovely grounds of Scotland's Beaufort Castle is a farm gate with a simple sign upon it: Mercy Gate. It reminded me, very slightly, of another Mercy Gate I visited in Jerusalem in 2017. This is better known as the Golden Gate, and is the centre of much Christian theology and eschatology. The modest Highlands farm gate will warrant much less attention and speculation than its Jewish namesake.
Whether you be an international diplomat, high profile potentate, or estate worker in the remote Scottish Highlands, there is a gate or door of mercy open to you. It is made of neither ancient sandstone nor wrought iron, but crucified and resurrected flesh:
I am the door: by me if any man enter in, he shall be saved, and shall go in and out, and find pasture. John 10:9
Whether you enter in a hot city or a cool arcadia, He always leads to green pastures and still waters.