Miss Bateson's Reward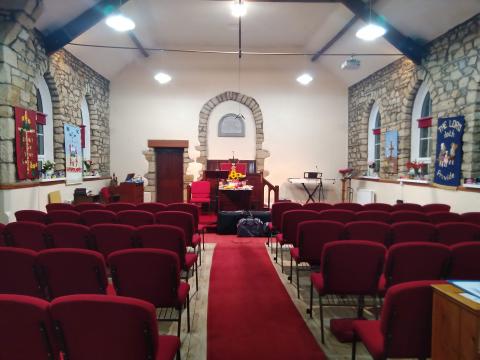 Over the sanctuary of Nether Kellet Congregational Chapel is a stone monument to a lady, which reads:
THIS TABLET IS ERECTED IN LOVING MEMORY OF ELIZABETH BATESON, WHO DIED 10TH OCTOBER 1889, AGED 67 YEARS.
HER LIFE, CONSECRATED TO THE SERVICE OF THE LORD,
WAS SPENT FOR THE WELFARE OF KELLET, WHERE SHE WAS THE MEANS, UNDER GOD, OF THE FORMATION OF THE CHURCH WITH THE SUNDAY AND DAY SCHOOL
AND THE ERECTION OF THIS PLACE OF WORSHIP.
There is surprisingly little information online about this lady, but I understand that when she helped found the chapel back in 1869, the village had a reputation for being a rough and dangerous place, not the quaint commuter-village it now is. She also left money in her will to provide Bibles for the Sunday School children. So a relatively obscure woman who founded a small place of worship in a modest village, the records for which are scant.
Yet the great God of heaven notes and records all those deeds done in His name, whether those well illuminated by the bright lights of publicity, or those done more discreetly and inconspicuously under the blind gaze of discretion. You may not be called to found a chapel, supply a Sunday School or reform a village, but what you do for Him is never ignored.
"And behold, I am coming quickly, and My reward is with Me, to give to every one according to his work." Revelation 22:12