Pilgrim's Revelation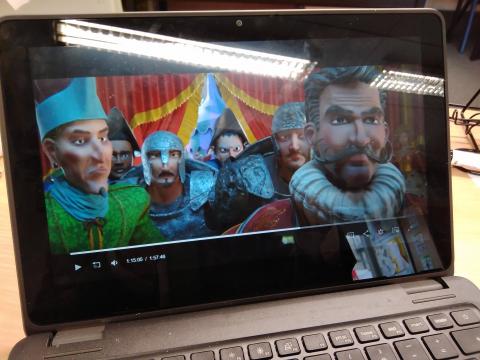 I have just watched Revelation Media's animated version of John Bunyan's Pilgrim's Progress. I had low expectations which were soon exceeded. It can be viewed for free, here, though registration is required. Although a somewhat unnecessary introduction from Kristyn Getty precedes the tale, and a few good episodes are inevitably omitted from the production (such as the giants Pope and Pagan), the production is superb and worthy of the near two hours' viewing time it requires. The main characters are arrayed in seventeenth-century attire, while Mr Worldly-Wiseman is a Victorian dandy and Apollyon a terrifying demon concerned with industrial production. When the latter fights Christian, the viewer really is on the edge of his seat. Before fleeing, he warns him: "You will see me again when the waves overpower you…". Sure enough, when Christian crosses the river of death, Apollyon returns for him. This does not happen in the book, and my hackles began to rise, but the addition proved more than satisfying. The giant demon swims up to destroy him, grabbing him with his gigantic talons. Apollyon is repelled, but blood gushes out, clouding the water much as it does in the old Jaws films. Christian, pale and lifeless, begins to sink to the bottom, but in the next scene he is found in new clothes, waking on a sunlit beach. Lifting him to his feet is the Lord Jesus, whom Christian recognises as the humble shepherd who had appeared to him some time before. In disbelief, he says:
"I saw the blood; I was bleeding!"
The Lord replies, "It was not your blood, Christian, but mine."
I think Goodman Bunyan would happily approve of this addition to the similitude. The contrast between the Celestial City of King Jesus and the dirty, accursed city of Lord Apollyon could not be greater. There are many cultural influences evident in this production, but the foremost is the Bible's message of hope and salvation. Watch it, I urge you, and be encouarged thereby. 
How beautiful upon the mountains
Are the feet of him who brings good news,
Who proclaims peace,
Who brings glad tidings of good things,
Who proclaims salvation,
Who says to Zion,
"Your God reigns!
Isaiah 52:7, New King James Version
Hobgoblin, nor foul Fiend,
Can daunt his Spirit:
He knows, he at the end,
Shall Life Inherit.
Then Fancies fly away,
He'l fear not what men say,
He'l labour Night and Day,
To be a Pilgrim.
-John Bunyan.