Rev David Isaacs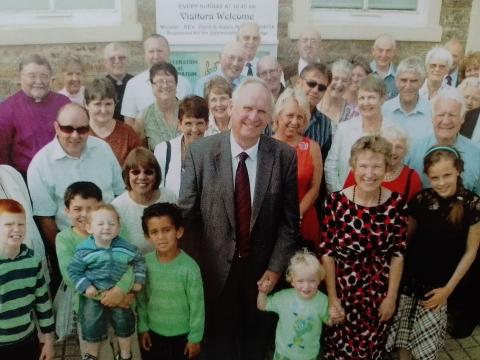 It is appropriate and fitting that this site salutes the lately departed Pastor David Isaacs, my predecessor here at Salem Chapel. David died on 28th September at Criccieth in North Wales, just 48 hours after I went to say farewell. He was 86 years old, and served at Martin Top from 2006 to 2015. Born near Chesterfield in 1937, his family was Welsh, and his father a Methodist lay preacher. He had previously pastored at Golborne near Wigan and had at one time been a county magistrate at Leyland.
It was David who first suggested that I succeed him at Salem, I then being a member of another church but attending his mid-week Bible studies. Pastoring at Martin Top has never been a doddle (no pastorates ever are), though I understand that during his time, he addressed a number of issues in the church as well as ensuring the doors remained open during a period of smaller congregations. A number of people joined the fellowship during his time who are still associated with us.
David looked weak during my visit, though he could sustain a conversation and demonstrated an assurance of salvation. His wife, Edith, and dog Polly will be the poorer without him, but his God shall supply all their needs.
Of our chapel's 30 pastors, I estimate that 25 are now with the Lord, 6 still live on earth and a couple I cannot determine. I look forward to the day when I join the majority, and to this end, I envy Pastor Isaacs, who has 
depart[ed] [to] be with Christ, which is far better. Phil 1:23
I thank God for his faithful ministry and the old gospel he preached.