Sancte Petre Ora Pro Nobis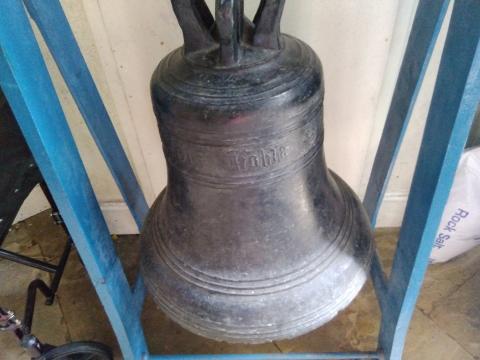 By the entrance to Pateley Bridge's Parish Church is a large, fifteenth-century bell that once hung in the former parish church, St Mary's, but may have been part of the ring at Fountains Abbey before the dissolution. There it sits, a curious relic of a former age, a reminder of times past. Upon it is written some lettering, which I found too difficult to decipher, the nearby information board coming to my rescue. The words are:
Sancte Petre Ora Pro Nobis.
Which, translated:
Saint Peter, Pray for Us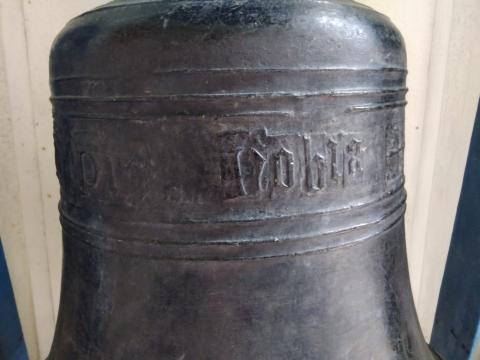 The teachers and theologians of the medieval Roman Church taught that Christ was too powerful and awesome a figure to hear mortals' prayers. Instead, they were urged to pray to or through others- worthier than themselves, but less formidable a person as God's Son. Some approached through Mary, His mother; others contented themselves with village priests and Rome's own bishop. Here, the bell-founder presumably fulfilled a commission by Fountains' Lord Abbot to invoke Peter's attentions, the foremost of the Apostles.
I have heard Catholics and Anglicans justify the practice of invoking saints by asking me if I ever ask other Christian to pray for me. Indeed, I often receive emails and texts asking for my prayers, or seeking the attention of our Wednesday night intercession. "So there is no difference", comes the reply. "We are simply asking other believers to support us in prayer."
Even if praying to the dead can be justified by scripture (it can't) and it yielded results (it doesn't), such a practice is best avoided. Peter, Mary and all the other genuine saints are in heaven, basking in the Lord Jesus' radiance and splendour. They are receiving their reward for dedicated service and martyred lives. Hearing a petition from me to help me in this or that regard, would be like a mobile pinging at a wedding, or a salesman calling during Sunday dinner. To intrude upon their enjoyment of heaven would be the very height of rudeness and impropriety. Yet there is One upon whom we may call, solicit His help, and expect round-the-clock attention- the Lord Jesus Himself. As Almighty God, He can attentively receive worship in heaven while still minding His sheep on earth; as loving Friend and Great High Priest, it is His business to support and strengthen us.
Ask the living to pray for you if you wish, and leave well alone the dead. Pray to Jesus, Himself, directly.
And I will do whatever you ask in my name, so that the Father may be glorified in the Son. John 14:13