Short Service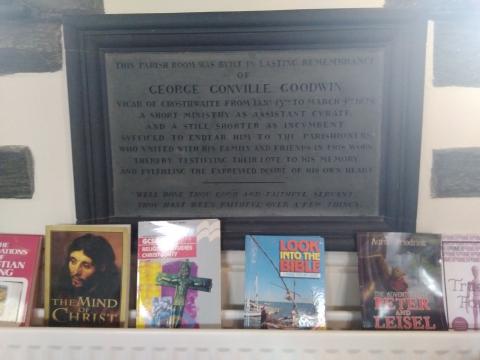 In the Crossthwaite Parish Room in Keswick, close to the new convention centre, is a memorial to a clergyman whose ministry was rather short lived. I shall let it speak for itself:
THIS PARISH ROOM WAS BUILT IN LASTING REMEMBRANCE
OF
GEORGE CONVILLE GOODWIN
VICAR OF CROSTHWAITE FROM IAN' 15TH TO MARCH 1878
A SHORT MINISTRY AS ASSISTANT CVRATE.
AND A STILL SHORTER AS INCUMBENT
SUFFICED TO ENDEAR HIM TO THE PARISHIONERS
WHO VNITED WITH HIS FAMILY AND FRIENDS IN THIS WORK,
THEREBY TESTIFYING THEIR LOVE TO HIS MEMORY
AND FULFILLING THE EXPRESSED DESIRE OF HIS OWN HEAR!
"WELL DONE THOV GOOD AND FAITHFUL SERVANT
THOU HAST BEEN FAITHFUL OVER A FEW THINGS"
We know not how much or how little time we have on earth. Let us therefore use it wisely, seeing as we do not know the day or hour when the Lord shall come or He calls us home.
Redeeming the time, because the days are evil. Ephesians 5:16