St. Botolph-without-Aldersgate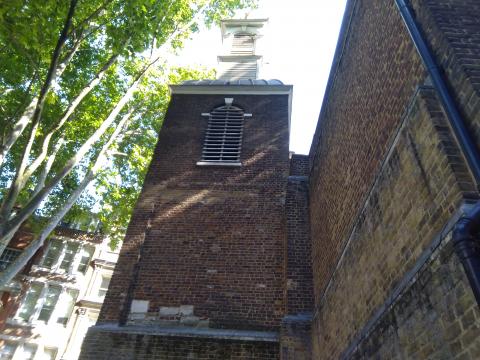 Regular readers will know my fascination with architecture and the history of our churches, two hobbies which fuse wonderfully in the City of London. I called at the Guild & Ward Church of St. Botolph-without-Aldersgate. Sadly, it was closed to visitors, but a sign by its door and another on its gate made my heart leap for joy far more than any ancient fabric and furnishings could ever do. They read:
A church building has stood here for nearly one thousand years. The present building dates back to 1788-91. More important than the age or beauty of the building, however, is that Jesus Christ, and the message of his death and resurrection, is proclaimed here throughout the week.
To find out more, why not come along to one of our midweek lunchtime services (details opposite) or contact…
And
A Christian Open Air Meeting is held here Monday, 1.15 p.m. from MAY - SEPT. (by kind permission of the Church). For God so loved the world, that He gave His only begotten Son, that whoever believes in Him, should not perish, but have everlasting life. John. 3:16
Whereas many churches, even in London, content themselves with being museums or art galleries, here is one of several that still has an urgent desire to share God's great salvation. May God bless the clergy and congregation of St. Botolph-without-Aldersgate and may other churches, including ourselves, heed their example.