St Gregory, Hemingstone: Tombs & Bellows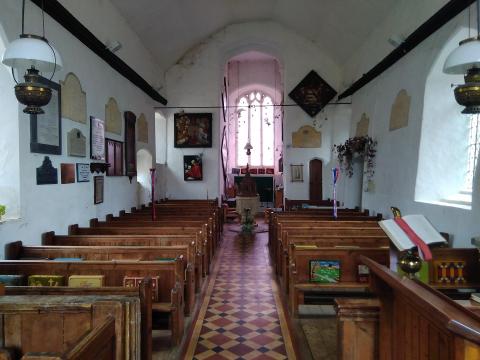 At St Gregory's Church in the Suffolk village of Hemingstone sits a rather rustic but charming structure, remote from the modern world. By the door is a gigantic set of black smith's bellows, for who knows what purpose. Yet within, one is distracted by a large Elizabethan tomb, which could almost be an altar in its construction. This parish had a record of failing to comply with the Protestant government's expectations, and the tomb's owner's son was certainly no puritan. I suspect that Will Cantrell, whose cadaver lies within, would have preferred to live at a time when the living could pray for and to the dead, not under the then Protestant dispensation when such practices were banned and beliefs discouraged. Current users of the church have heaped candles about the tomb, and there is a painting of St Gregory hanging there, his papal crown next to him. Cantrell may be happier now with the church's interior than that which he saw in his own day.
The inscription from 1585 reads:
Man here thou mayste yntombed see, a man of honest fame,
Come home to earthe, who in this life, bare William Cantrell's name.
A gentleman in birth, in life, in office and degre,
Now wrapte in clay; then thincke O man what will become of thee.
This William Cantrell feofee was with others put in truste,
Regarded well for vertuous life, wise, sober, true and juste,
Even of the whole revennes of that mighty prince of late,
Late Thomas, Duke of Norfolk, highte, some tyme of high estate.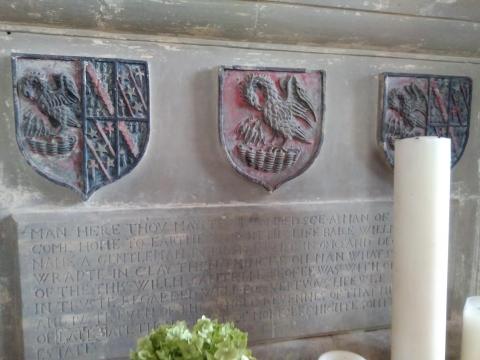 Regardless of Master Cantrell's continued papistry, his first verse's concluding line is worthy of note; ignore the guff about his personal virtues in verse two and the toadying towards his ducal employer. Cantrell was 'wrapped in clay', for no man, no matter how high or honoured, can withstand death's determined pull. And when they go, no candles or intoned prayers can alter their state. A bellows greater than those in that church will heat the fires, otherwise they shall rest with Christ, beyond the reach of pain, sickness, death and fear.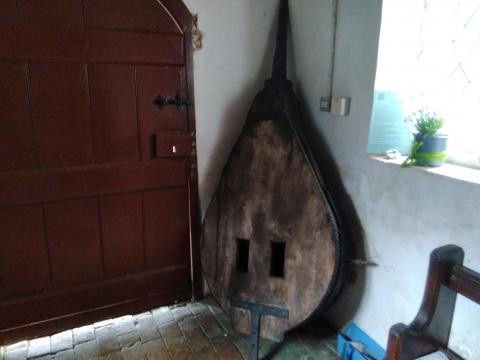 "I feel this mud-walled cottage shake,
And long to see it fall;
That I my willing flight may take
To him who is my All.
"Burdened and groaning then no more,
My rescued soul shall sing,
As up the shining path I soar,
'Death, thou hast lost thy sting.'"
Dear Saviour, help us now to seek,
And grant thy Spirit's power;
That we may all this language speak,
Before the dying hour.
John Newton, No 469 in Gadsby's Hymns