Standish's Sundial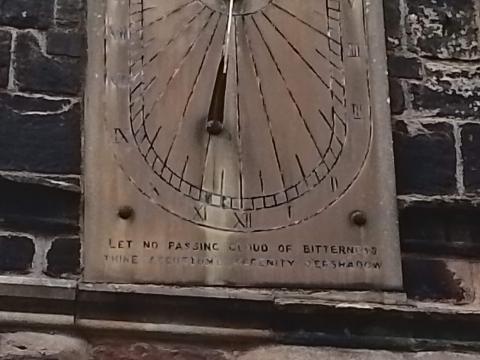 St Wilfrid's Church at Standish is historically interesting, but, alas, it was shut up when there I called last month. An unusual, Elizabethan nave and predictable nineteenth-century tower were only observable from without, but the sundial above its porch I could read. Upon it was a text:
 "Let no passing cloud of bitterness Thine accustom'd serenity o'er shadow".
This sounded a tad sentimental and insipid, offering no reason for our supposed serenity, save the custom of previously having it. I would far sooner be assured of God's sovereignty and grace than some superficial habit of acting calmly. The world (and this maudlin cliché) offers nothing but hogwash, but the Christian has a sure and certain hope: the personal promises and assurances of a living Saviour and an immovable God. Let your inspiration come from God's word, not trite sundials, wordly wisdom or hollow sanctimony.