Twelve Drummers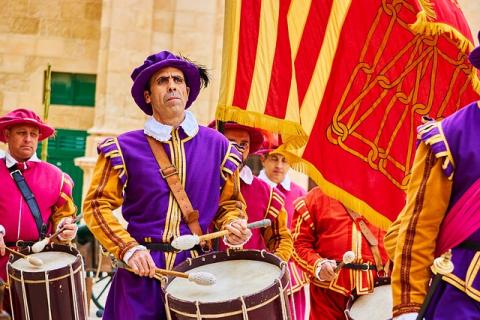 The Twelve Days of Christmas is a rather delightful Christmas song. Bereft of any obvious theology, it is a one which nearly all pupils in non-faith schools like mine are prepared to sing. Some suggest that each of the items listed in the lyrics do have some deeper, Christian meaning. I somewhat doubt this, but I shall consider some of the interpretations offered. I am also doing it the wrong way round. The first day of Christmas is the 25th, whereas I shall be talking about them in reverse order.
Online sources suggest that the 12 drummers drumming refers to the 12 clauses of the Apostles' Creed, which I here share in Latin and English, for no good reason:
1. Credo in Deum Patrem omnipotentem, Creatorem caeli et terrae,
I believe in God the Father almighty, maker of heaven and earth,
2. et in Iesum Christum, Filium Eius unicum, Dominum nostrum,
and in Jesus Christ, his only Son, our Lord,
3. qui conceptus est de Spiritu Sancto, natus ex Maria Virgine,
who was conceived from the Holy Spirit and born of the Virgin Mary,
4. passus sub Pontio Pilato, crucifixus, mortuus, et sepultus,
who suffered under Pontius Pilate, was crucified, died, and was buried,
5. descendit ad inferos, tertia die resurrexit a mortuis,
descended into hell, rose again from the dead on the third day,
6. ascendit ad caelos, sedet ad dexteram Dei Patris omnipotentis,
ascended into heaven and is seated at the right hand of God the Father almighty,
7. inde venturus est iudicare vivos et mortuos.
who will come again to judge the living and the dead.
8. Credo in Spiritum Sanctum,
I believe in the Holy Spirit,
9. sanctam Ecclesiam catholicam, sanctorum communionem,
the holy catholic Church, the communion of saints,
10. remissionem peccatorum,
the forgiveness of sins,
11. carnis resurrectionem,
the resurrection of the body,
12. vitam aeternam. Amen.
and the life everlasting. Amen.
This ancient summary of Christian belief originates from a time when the incarnation was hardly thought worthy of special commemoration, with just two phrases dedicated to the event. Muslim friends of mine consider Christmas to be the primary Christian festival. It is of course no such thing, and should be seen against the imposing backdrop of Eden's sin, Sinai's lawful condemnation and the prophets' messianic forthtelling. Christmas without these, much less Easter's death and resurrection, renders it pointless. If you are one of those 'Christians' who only celebrates Christmas, you are utterly missing its purpose. 
This is a faithful saying, and worthy of all acceptation, that Christ Jesus came into the world to save sinners; of whom I am chief.
1 Timothy 1:15