Victoria Cave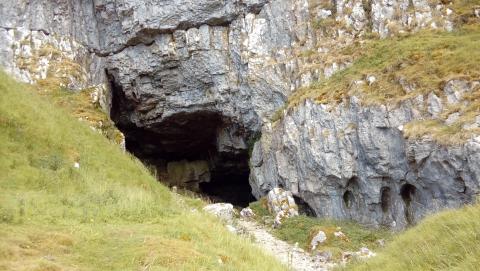 Some time ago I visited Settle's famous Victoria Cave. This passage into the bowels of Langcliffe Scar has been littered with the bones of hippos, narrow-nosed rhino, elephants and spotted hyenas from when Yorkshire was balmier than today. There also was found the remains of a hibernating brown bear, suggesting that climate change is nothing new. Among the man-made detritus, there was a reindeer antler harpoon, and a collection of Roman brooches, coins and pottery, some imported from as far away as Africa. What a treasure trove! It would appear that Victoria Cave was a refuge and sanctuary for man and beast for millennia. The psalmist declares:
In God is my salvation and my glory; the rock of my strength, and my refuge, is in God. Psalm 62:7
But the Lord has been my defence, and my God the rock of my refuge. Psalm 94:22 (both NKJV)
Sheltering in the shadow of El Shaddai has proved an even more ancient sanctuary than this Yorkshire cave. From creation till this very day, men and women have called on His name for deliverance, and found in Him a strong tower.
The Lord also will be a refuge for the oppressed, a refuge in times of trouble. Psalm 9:9